2 'Neo-JMB members' surrender in Bogra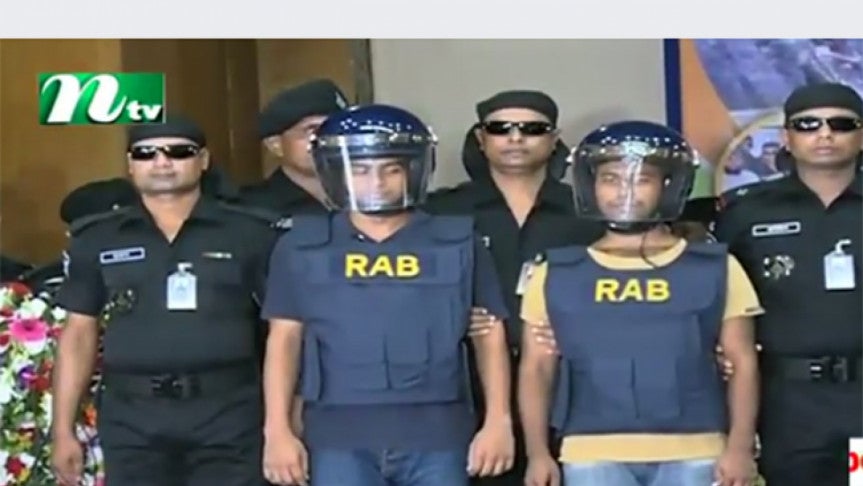 Bogra: Two suspected members of a new faction of banned militant organisation Jamaat-ul-Mujahideen Bangladesh, Neo-JMB, were surrendered to Home Minister Asaduzzaman Khan Kamal, and Rapid Action Battalion (RAB) in Bogra on Wednesday afternoon.
The JMB members are Abdul Hakim, a student of Bogra Polytechnic Institution, and Mahmudul Hassan Bijoy, who recently passed Alim examination.
Abul Hakim is the resident of the village of Kamarpara at Shahjahanpur upazila in Bogra, while Mahmudul Hassan Bijoy hailed from the village of Hatbharatkhali in Gaibandha.
Earlier, the JMB members surrendered at RAB-12 headquarters.
Abdul Hakim and Mahmudul Hassan officially surrendered to the home minister, and RAB Director General Benjir Ahmed at Titu Milonayatan near Shatmatha area of Bogra at about 12:30pm.
The home minister also handed over Tk 5lakh to each of the JMB member for rehabilitation.
Bogra Awami League President Alhaj Momtaz Uddin, Bogra constitution-7 lawmaker Mohammad Nurul Islam, Deputy Commissioner Ashraful Islam, Superintendent of Police (SP) Asaduzzaman and other local administration officials were present during the surrender programme.