No panic over coronavirus, exercise precautions: Govt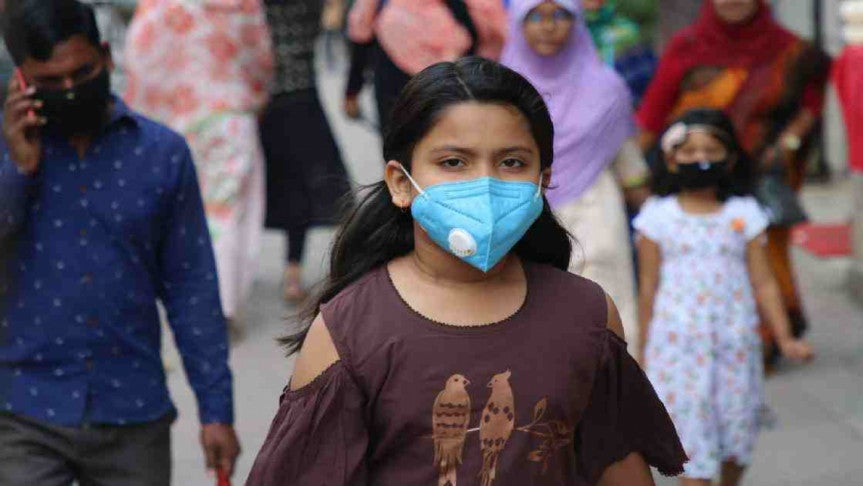 The government on Thursday advised all not to panic about coronavirus and follow the awareness-raising instructions properly to stay safe.
The government suggestion came as there has been no new case of coronavirus in the country while the two of the already infected three patients are making quick recovery, the UNB reported.
 The two patients are now doing well while the condition of the third one is also stable, said Health Minister Zahid Maleque.
He also said no new coronavirus patient has been diagnosed in the country as of Thursday.
However, there was no briefing from the Institute of Epidemiology, Disease Control and Research (IEDCR) on Thursday.
Meanwhile, those returning from abroad are being kept in home quarantine across the country under the supervision of respective district administrations following the government instructions.
PM on Coronavirus
Noting that the government is making its best efforts to fight coronavirus, Prime Minister Sheikh Hasina urged the people of the country to properly follow the awareness-raising instructions over the virus.
"We've been trying our best to resist Covid-19 or Coronavirus… the Institute of Epidemiology, Disease Control and Research (IEDCR) is regularly providing instructions to raise awareness over the virus. All will have to follow these instructions regarding awareness," she said.
Sheikh Hasina said if anyone suspects that s/he has been infected with coronavirus or any symptom of virus-infection is seen, the person will immediately have to take prescription and treatment from physicians.
 "We've kept hospitals and health centres ready in this regard in every district and upazila as well," she said.
Sheikh Hasina said a panic has been created across the world following the coronavirus outbreak. Though the deaths caused by the virus are not that much high, but (the extent of) panic is huge, she added.
The Prime Minister suggested the returnees from foreign countries to keep themselves isolated from others for some days and see whether there is any symptom of this virus among them.
Mentioning that the people of the country are less conscious regarding health, she suggested them not to spit here and there, and wash their hands with soap returning home from outside to keep themselves protected from the virus.
She urged people to keep their own houses, offices, workplaces neat and clean as well as dump wastages in a specific place to prevent the transmission of infectious viruses.
The Prime Minister directed all concerned to develop a waste management system up to village level throughout the country to build a clean Bangladesh.
Health Minister's Briefing
The Health Minister urged the Bangladeshi expatriates living in different countries of the world not to return home right now unless it is a case of emergency. "If anyone returns home, s/he must be quarantined," he said while talking to reporters at the Secretariat.
Those who have returned home from abroad have been identified and kept in quarantine at their respective homes, the minister said, adding that no new coronavirus patient has been diagnosed as of today.
"Now, we have 10 scanners. Five scanners have already been installed at Chattogram Airport, Chattogram Seaport, Hazrat Shahjalal International Airport, Sylhet Osmani International Airport and Benapole land port. The rest will be installed within 2-1 days as per the necessity," the minister added.
No Independence Day Parade
In the wake of the detection of coronavirus in the country, the government has decided to suspend the Independence Day Parade this time.
The Cabinet Division issued a notification on the revised national programmes of the Genocide Day and Independence Day on Thursday.
As per the notification, some other programmes will continue as usual.
Besides, Islamic Foundation has called for discussing the coronavirus issue during Jum'a prayers on Friday to make people aware about how to stay safe.
Imams have also been urged to offer special prayers in all mosques across the country, said a press release on Thursday.
Flights Suspended
Following India's decision suspending all visas, barring a select few categories, Biman Bangladesh Airlines and three private airlines have announced to halt all of their flights to India from March 14 to April 15.
District Updates
In Manikganj, 30 more people, who returned from abroad, were kept in home quarantine in the last 24 hours, raising the total number to 109 in the district in last three days.
Civil surgeon of the district Dr Anwarul Amin Akanda said there were no symptoms of coronavirus among them.
In Jhalakati, four people, who recently returned from Saudi Arabia, China and Italy have been kept in self-isolation, said civil surgeon Dr Shyamal Krishna Haldar.
In Chapainawabganj, two people, who came back from Italy and India, have been home-quarantined in Sadar and Shibganj upazilas.
In Sylhet, truck drivers and tourists coming from India through Tamabil land port in Gowainghat upazila are undergoing medical tests as part of precautionary measures to prevent coronavirus, said upazila nirbahi officer Md Nazmus Sakib.
In Jashore, the movement of passport passengers through Benapole Checkpost will remain suspended from March 13 to April 15 as the Indian government suspended all visas.
Additional superintendent Towhidul Islam of Jashore police said the entry to India through country's land ports, airports and seaports will remain suspended from Friday.
In Barishal division, 15 people have been kept in home quarantine, said Dr Shyamol Krishna Mondal, assistant director of the district health office.
In Chattogram, seven Italy-returnees have been placed under isolation, said civil surgeon Dr Sheikh Fazle Rabbi.
The people, who have been kept in home quarantine, are under all-time surveillance of district administration.
Besides, all the programmes of Chittagong University have been postponed for an indefinite period.
Global Updates
The death toll from coronavirus or Covid-19 has reached 4,729 globally as of Thursday.
Besides, it has infected 128,872 people around the world, according to worldometer.
Of them, 55,489 are currently infected while 68,354 patients recovered.
The coronavirus has affected 125 countries and territories around the world, and one international conveyance (the Diamond Princess cruise ship harbored in Yokohama, Japan).
Expressing alarm both about mounting infections and inadequate government responses, the World Health Organization on Wednesday declared the global coronavirus crisis as a pandemic.
US Support
The US government has mobilised $2,500,000 through USAID to support Bangladesh's Covid-19 readiness and response efforts.
This USAID funding will support three priority areas -- strengthening infection prevention and control (IPC) measures in health facilities; improving specimen transport and referral systems; and increasing risk awareness communication and outreach.