A classical music evening: Remembering Ustaad Baba Aalauddin Khan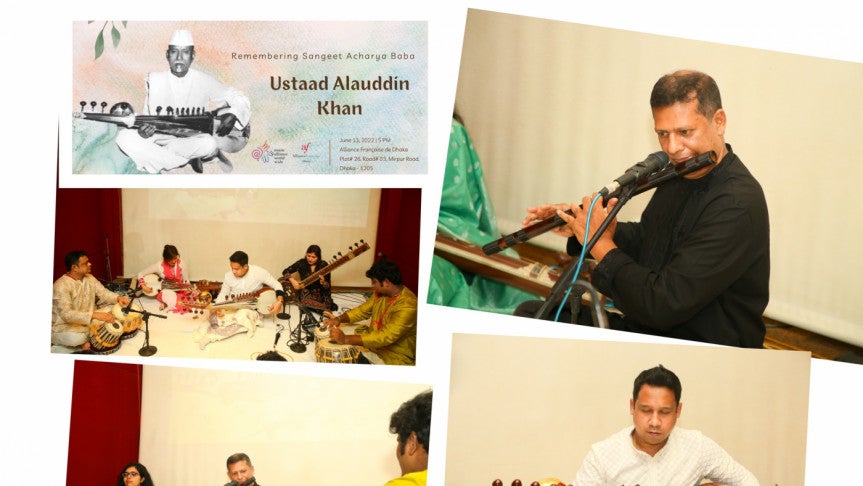 Music Alliance Worldwide Foundation (MAWW Foundation), an absolute non-profitable platform promoting young talented musicians of Classical and Traditional genre, in collaboration with Alliance Française de Dhaka presented a documentary screening followed by an evening of Subcontinental Classical Music on June 13 at 6:00 pm, in memory of Sangeet Acharya Ustaad Baba Alauddin Khan (1862-1972).
The event was the inauguration of yearlong programme in commemoration of the great Ustaad Alauddin Khan's 160th year birth anniversary and 50th death anniversary in 2022. In fact, 50 years back he gave his last performance in Bangladesh in 1972.
The second part of the musical soiree was dedicated to the renowned Ekushey Padak wining Bangladeshi Sarode Player Late Ustaad Shahadat Hossain Khan who lost his battle to Covid-19 on 28 November in 2020.
Musicians from Bangladesh and India performed in the soiree with Flute by eminent musician Murtaza Kabir Murad from Bangladesh; Sarod by Shiraj Ali Khan from West Bengal, India, who is the great-grandson of Ustad Alauddin Khan; Sitar and Sarod duet by Afsana Khan and Rukhsana Khan—twin daughters of Ustad Shahadat Hossain Khan; Tabla by Mainak Biswas from West Bengal and Zakir Hussain from Bangladesh; and Tanpura by Chemon Faria Islam Meghla from Bangladesh.
Mehjabeen Rahman, founder and president at Music Alliance Worldwide Foundation said, 'Life has come to a standstill during the last three years due to the Novel Coronavirus pandemic. Hence, MAWW Foundation took the initiative to remobilise.'