Promise not to interfere in banking sector, CPD to political parties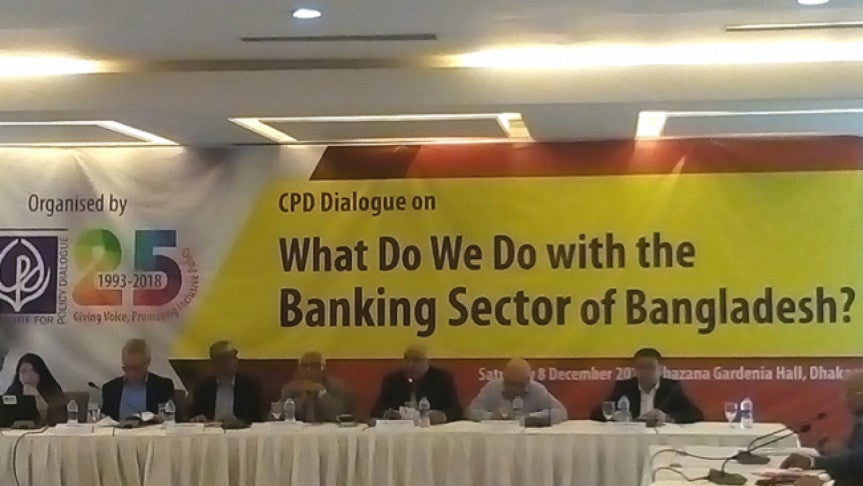 Dhaka: Distinguished Fellow of the Centre for Policy Dialogue (CPD) Dr Debapriya Bhattacharya on Saturday urged the political parties to pledge in their manifestos to be announced for the 11th parliamentary elections not to interfere in the banking sector if they win the polls.
He made the call while addressing a CPD dialogue titled 'What do we do with the banking sector of Bangladesh' in the capital, reports the UNB.
Debapriya, a macro-economist and public policy analyst, also announced to form a 'Citizen Commission' after the election to save the banking sector which is the heart of the country's economy.
He said the banking sector has experienced scams of Tk 22,000 crore recently.
CPD Executive Director Fahmida Khatun presented a research paper on the banking sector at the programme.
Blaming the banking sector's prevailing situation on the lack of good governance, former Bangladesh Bank Governor Dr Salehuddin Ahmed said, 'Political interfere must be stopped if the sector is to be made strong. There's no way other than the democratic practice to stop the culture. There should also be an independent bank commission.'
Renowned economist Prof Wahiduddin Mahmud said rules and regulations are being violated in various ways in the banking sector. 'And many people commit corruption under the patronage of politicians.So, new rules should be formulated to stop the culture.'
He also underscored the need for making the politicians understand not to interfere in the banking sector for the sake of the country's economy.
Former BB Deputy Governor Khondker Ibrahim Khaled said the banking sector is passing through a critical time. 'The central bank has failed to save self-interests. The government looks after the rich depriving the depositors.'