Bangladesh Bank unveils monetary policy for Jan-Jun period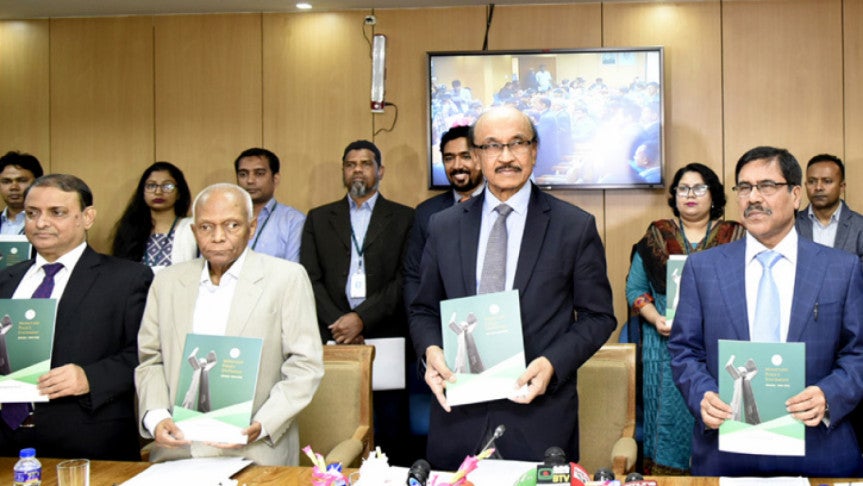 Dhaka: Bangladesh Bank on Wednesday unveiled its monetary policy statement (MPS) for the second half (January-June) of the 2018-19 fiscal year.
Central bank Governor Fazle Kabir presented the MPS at a press briefing at the BB's Jahangir Alam Conference Hall in the morning, reports the UNB.
Speaking on the occasion, he also said the central bank has signed an agreement with US Federal Reserve Bank on Tuesday night to file a money suit with a New York court to recover its stolen money. 
The Bangladesh Bank team is set to file the case tonight (Wednesday night), he said, adding that the parties those benefited from the heist, including Philippines' RCBC, will be made accused in the case.
The Bangladesh Bank chief also said the country's foreign direct invest (FDI) has substantially increased following Bangladesh's inclusion into China's Belt and Road Initiative (BRI).
Responding to a query on Bangladesh joining the BRI, Bangladesh Bank Advisor Allah Malik Kazmi said it will not affect investment from any neighbouring country as Bangladesh has been welcoming FDI under a single policy.
Malik replied to the question upon request when Fazle Kabir was asked whether Bangladesh's move will create any conflict with India as New Delhi has a strong reservation about the BRI. 
China's Belt and Road Initiative (BRI) an ambitious programme to connect Asia with Africa and Europe via land and maritime networks along six corridors with the aim of improving regional integration, increasing trade and stimulating economic growth.
The BB chief said investment from different international funds, including China-led Asian Infrastructure Investment Bank and also communication of big corporate firms with different international funding agencies, will play an important role in raising both FDI and portfolio investment in Bangladesh.
'So, this will be very important to keep eyes on the investment flow so that financial institutions can srcutinise the investment of the firms accredited by internationally acceptable credit rating agencies,' he said, explaining the core objectives of the new MPS.
The new MPS kept the domestic credit growth and broad money supply (M2) unchanged at 12 percent and 15.9 percent respectively. But it set the public sector credit growth at 10.9 percent in place of previous 8.5 percent and private credit growth at 16.5 percent instead of previous 16.8 percent.
About inflation, the MPS mentioned that the average inflation in one year is expected to be around 6-7 percent, with around 70 percent of the respondents anticipating inflation to be above 6 percent. But the BB staff projections show average inflation to be around 5.3-5.6 percent in June 2019 assuming that there will be no further domestic or external shocks, including a relatively favourable global inflation outcome, it said.
Rejecting any idea of liquidity crisis in the banking sector, Fazle Kabir claimed that the sector has a surplus liquidity of Tk 79,329 crore.
Replying to a query whether BB has carried out its own departmental investigations into the cyber heist, the governor said the Criminal Investigation Department was given responsibility to conduct a probe and they are doing it. 
He, however, said he does not know when CID can complete its investigation.
International robbers withdrew $101 million from the Bangladesh Bank account with the Federal Reserve of New Your through fraudulent instructions against their target of about $1 billion in February 2016.
However, some $20 million was recovered from a Sri Lankan bank while $81 million, which landed in Manila-based Rizal Commercial Banking Corporation (RCBC), could not be recovered.Most of the money transferred to the Philippines went to four personal accounts, held by single individuals.
The Federal Reserve Bank of New York blocked the remaining thirty transactions, amounting to US $850 million, due to suspicions raised by a misspelled instruction. Around $18 million of the $81 million transferred to the Philippines has so far been recovered. It was later suspected that Dridex malware was used for the attack.