World champion U-19 cricketers to get Tk1 lakh each per month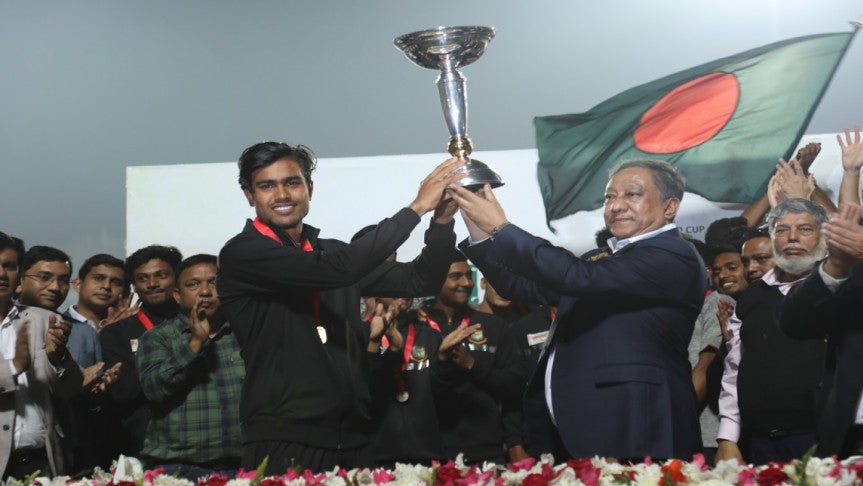 Members of the ICC U-19 World champions Bangladesh team will get Tk 1  lakh each per month in next two years from Bangladesh Cricket Board (BCB) for their feat.
BCB President Nazmul Hassan Papon made the announcement at a press conference soon after the U-19 team was accorded a grand reception at Sher-e-Bangla National Cricket Stadium in Mirpur after they returned home from South Africa on Wednesday.
At a press briefing, Nazmul Hasan also announced that the board will form a new unit of Under-21 team comprising members of the champion team and provide them maximum facilities to nurture for future. "We've seen many players of the previous U-19 teams lost their way from cricket. But, we've decided that we'll nurture them for a long time so that they can get ready for future," Nazmul said.
The BCB chief said the board will provide the U-19 members Tk 1 lakh per month for the next two years. "It's a two-year contract for now. After this phase, we'll review their performance. If anyone fails to meet the requirements they might be axed from the unit," Nazmul added.
He said the fund for the development of these cricketers is unlimited. According to him, the board will bear the expense necessary for their development. At the same time, the board will arrange as many games as possible at their level at home and abroad.
"This is the biggest achievement for Bangladesh's sports fraternity. We're immensely proud of the guys. They've proven that we can win the World Cup," Nazmul said.
Most of the cricketers will travel to their homes on Thursday. They will be back in Dhaka in the next week.
Thousands of jubilant spectators came thronged to catch a glimpse of the world champion team at Sher-e-Bangla National Cricket Stadium.
BCB cut cakes at the main ground of Sher-e-Bangla amid loud cheers from the crowd. Fireworks lit up the sky to celebrate the first-ever World Cup win by Bangladesh.
The U-19 team will get be accorded another grand reception at Suhrawardy Udyan by Prime Minister Sheikh Hasina next week.
Bangladesh team returned home Wednesday evening from South Africa after winning the ICC U-19 World Cup beating the four-time champions India at Potchefstroom.
It was Bangladesh's first-ever world cup title in any level of cricket. Bangladesh never advanced to the final of any world cup before. Akbar Ali and his team conquered the world in the first chance they got and created history for the country.