Group painting exhibition 'Prothom Parbo' at Alliance Française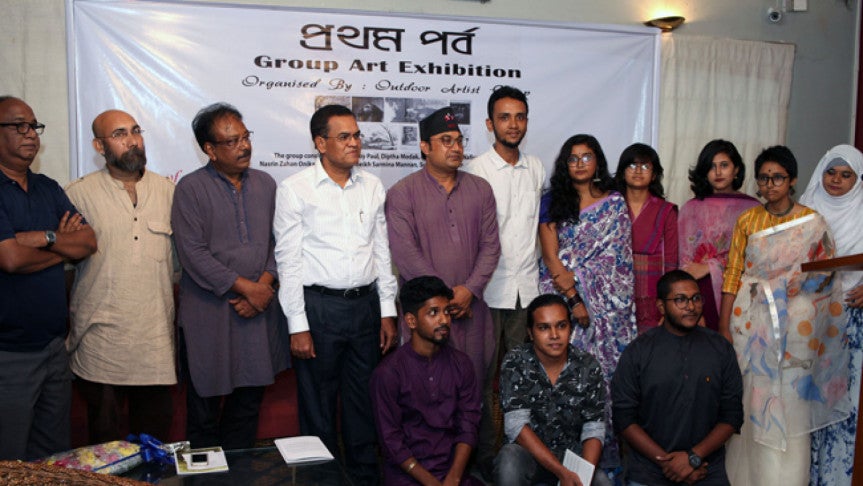 Dhaka: A group painting exhibition titled 'Prothom Parbo (The First Chapter)' by 'Outdoor Artist Group' has begun at Galerie Zoom of Alliance Française de Dhaka.
The inaugural ceremony of the exhibition was held on Friday, 27 July 2018.
Md. Saiful Hassan Badal, joint secretary and project director, ministry of shipping Bangladesh secretariat, Dhaka graced the occasion as the chief guest.  Artist Rezaun Nabi, Rumi Noman, chief news editor of ATN Bnagla and Prof. Shahjahan Ahmed Bikash, Chairman, Faculty of fine Arts, University of Development Alternative also attended the opening ceremony as the special guests.
The participants of this group art exhibition are students of fine arts at the University of Development Alternative (UODA). The media used for realising the artworks were not restricted to conventional materials and most of the works has their bases in nature. Though these nine budding artists are exhibiting as a group, their styles and interpretation of artistic imagination are unique to each of them. The participating artists are an intense observer of their surrounding ambiences and they meticulously projected them. Their paintings are refreshing and provide the spectators with a sense of pleasure. Their depictions are lively and vigorous. Perhaps as a result of collaborating in several group art exhibitions, art camps and workshops, they have assuredly garnered a beautiful understanding of colours, forms and media distinguishable from their peers.
The participating artists are: Agoy Paul, Diptha Modak, Md. Faijul Islam, Nafisa Hossin Peo, Nasrin Zahan Onika, Saiful Islam, Sheikh Sarmina Mannan, Sumaiya Sharmin, and Trisha Ferdoushi.
The exhibition will be open to all till Saturday, 11 August 2018.