Pahela Falgun being celebrated across Bangladesh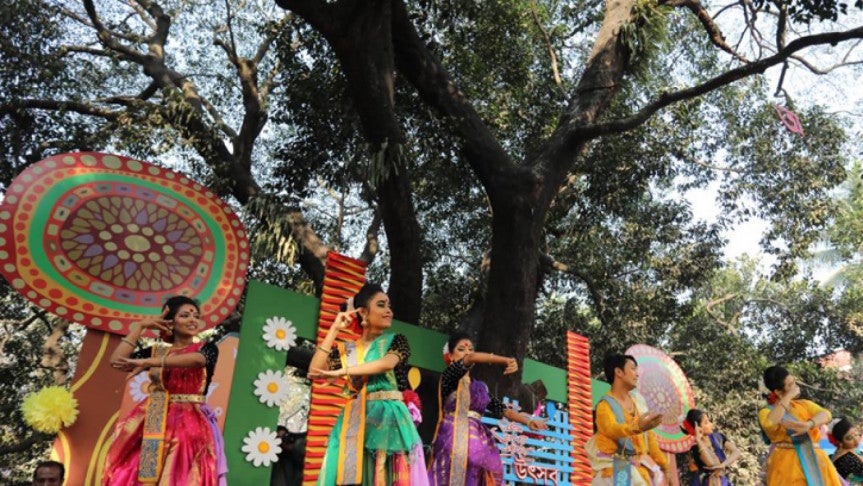 Pahela Falgun, the first day of Spring in the Bengali month of Falgun, is being celebrated across the country today (Wednesday) in a colourful way with young girls and boys joining various functions wearing dazzling dresses.
Falgun is the eleventh month in the Bengali calendar and the first month of the season, Spring, the king of all the six seasons that brings back warm sunshine, budding flowers and dancing of birds, reports the UNB.
The first of Falgun is known as Pahela Falgun and usually falls on February 13 of the Gregorian calendar.
After the dryness of winter, new leaves start to come out again and the nature adorns the branches with new colorful flowers such as Shimul, Polash and Marigold.
Falgun brings joys and colours both in nature and life. Everything in nature gives an impression of youthfulness or freshness, as if the nature takes a new birth. The festival-loving Bangladeshi people welcome and celebrate this day with great joy, love and in a colourful manner.
Girls are dressed in 'bashonti' (yellow or orange) coloured sarees while boys wear colourful panjabis to welcome the Falgun.
A spring festival is being celebrated on the premises of Dhaka University's (DU)'s fine arts faculty, which is the centre of the festival.
Besides, different socio-cultural organisations have chalked out various programmes in the capital and elsewhere to celebrate the day.