Bangladeshi cultural troupe 'Shurer Dhara' enthrals India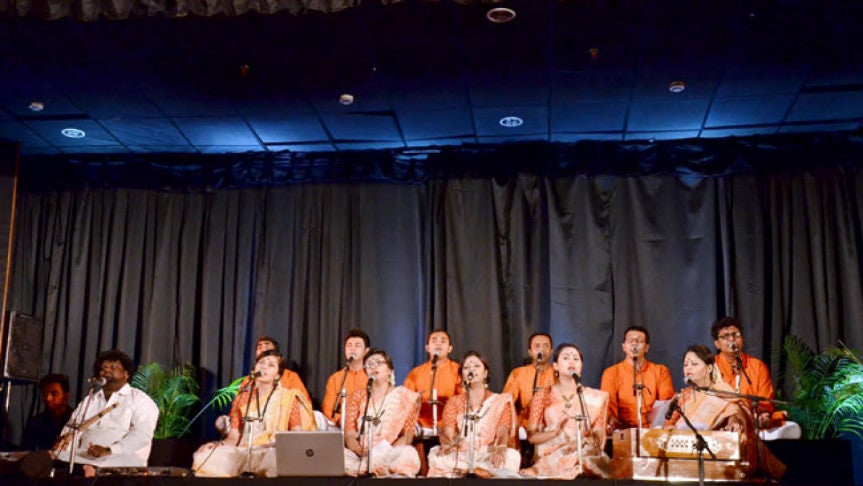 Shurer Dhara, a music school focused on Rabindra Sangeet spearheaded by the leading exponent of Tagore's music and ideology in Bangladesh Rezwana Choudhury Bannya, has taken a team of performers on an 8-day tour on invitation from the Indian Council for Cultural Relations (ICCR) to three cities of India – Kolkata, Lucknow and New Delhi.
The team was diverse, consisting of 17 members led by Rezwana Choudhury Bannya herself, which included a group of singers and musicians from Shurer Dhara, a professional dancer-choreographer, and dancers from Shurer Dhara's project for underprivileged children called 'Music for Development'.
The team went to Kolkata on 27 June 2016, and on the 28th performed at Rabindra-Sadan, Kolkata, at a cultural evening organized by the ICCR. The performance comprised renditions from the 1950s to the 1970s era highlighting songs of the 'Language Movement' and 'Liberation War' period of Bangladesh and also traditional Bangla folk music.
There was also a dance performance by children of Shurer Dhara's project for underprivileged children 'Music for Development'. The programme was highly applauded and appreciated.
The next leg of the tour brought the team to Lucknow, Uttar Pradesh, where the Bengali Club and Young Men's association in collaboration with ICCR hosted an evening of Rabindra Sangeet on 30 June 2016. Shurer Dhara delighted the audience through renditions in choruses and solos on the theme of Gaaner Bhelaay (Floating in a Raft of Songs) highlighting Tagore's belief of the multidimensional nature of songs in general. The Bengali Club Association honoured the performers with crests and sashes after the performance.
The Shurer Dhara troupe showcased their final presentation on 2 July 2016 in the capital, New Delhi. The theme of the show was centred on Tagore's Nobel-winning piece, Gitanjali or Song Offerings. The show was held at Azad Bhawan Auditorium, ICCR. The presence of audience was outstanding – the auditorium was crammed, an over full house.
Renditions  were performed in solo and chorus by Rezwana Choudhury Bannya and her team, along with dance pieces performed by children from 'Music for Development'. The audience expressed their exuberance through gleeful applause and heartiest compliments to the performers after the event concluded.