'Life Line for Dhaka' begins at Alliance Française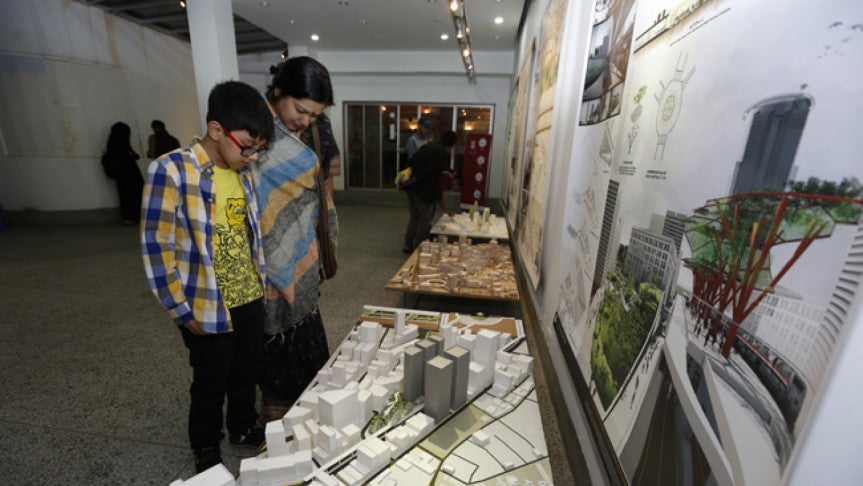 Dhaka: An urban design project exhibition titled "Life Line For Dhaka (Integrating Metro Rail Station with Urban Fabric)" organised by the Department of Architecture, Bangladesh University of Engineering and Technology (BUET) has begun at  La Galerie, Alliance Française de Dhaka.
The inaugural ceremony was held on Friday, January 6, 2017. Dhaka Mass Transit Company Ltd. Director Md. Kaikobad Hossain started the occasion as the chief guest. Secretary of the Ministry of Road Transport and Bridges, Government of the People's Republic of Bangladesh M. A. N. Siddique will also attend as chief guest on the closing day of the exhibition.
Mega city Dhaka has been suffering from worst traffic congestions since last two decades. Mass Rapid Transit (MRT), with a combination of train and bus, is suggested to be the most popular solution to support the masses of Dhaka. Remarkable changes are expected to come in the urban life of Dhaka with the completion of ongoing Dhaka Metro Rail Project. Success of such a system depends not only on the technological solutions; necessary adjustments are also needed in the built environment. Ensuring accessibility as well as connectivity is essential. Within this system, MRT stations play a major role. Selection of 'Location' and integration of the built-form within the existing fabric need attention, particularly when the infrastructure will be introduced in a built-up city like Dhaka. Moreover, economic viability and social inclusiveness are also important considerations in designing a transportation infrastructure like this. On the other hand, impact of the newly introduced transportation infrastructure on the city fabric, particularly in closer proximity to the station, might be tremendous. If properly handled, such a project will work like a life line to solve Dhaka's tremendous traffic problem. An appropriate design of metro station may change the life style and improve its quality, in physical, social, economic and psychological terms.
In response to the above issues, Department of Architecture, Bangladesh University of Engineering and Technology (BUET) have exercised a design project. The prime concern of the project is to enhance accessibility as well as connectivity, land use integration with transport infrastructure and seamless pedestrian interconnection within transit center to solve the last mile problem. This project exhibition will throw some light on the long felt need of the city dwellers and policy makers; thus public opinion needs to be developed for a successful implementation of MRT stations in Dhaka.
The exhibition will be open to all until 10 January 2017 from Monday to Thursday (3:00pm to 9:00pm), Friday and Saturday (9:00 am to12:00 noon and 5:00 pm to 8:00 pm) except for Sunday.