BBML signs loan agreement with DEG for USD 15M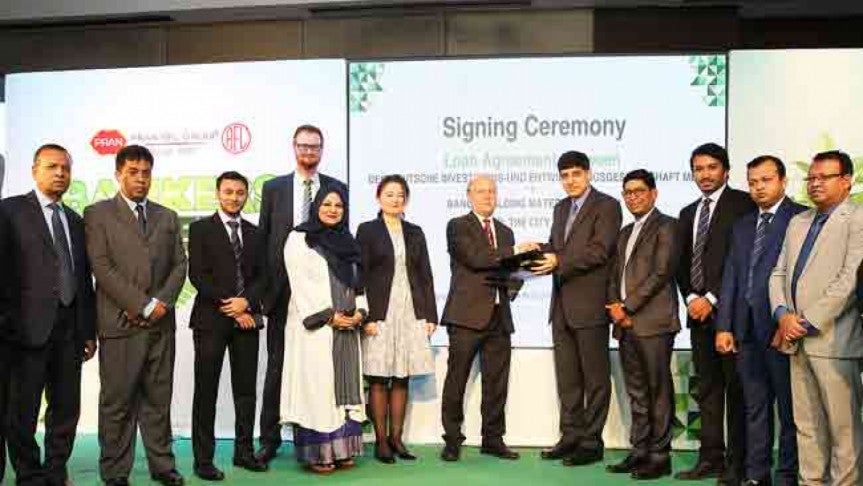 Deutsche Investitions-und Entwicklungsgesellschaft mbH (DEG), a German finance and development organization, will provide a long-term loan of USD 15 million to Banga Building Materials Ltd. (BBML), a sister concern of PRAN-RFL Group.
The loan will be used to extend existing capacity and set up new production lines for fans and energy-saving LED lights of BBML.
The agreement was signed between BBML and DEG on Wednesday at a city hotel. Uzma Chowdhury, Corporate Finance Director of PRAN-RFL Group and Jochen Steinbuch, Regional Director of DEG signed the agreement for their respective organizations.
Speaking at the signing ceremony, Ahsan Khan Chowdhury, Chairman and CEO of PRAN-RFL Group, said, 'We are delighted to have DEG as our partner and adviser offering us sufficient fund for the project at an affordable price which in return allows us to launch new products at an attractive price to the consumers.'
He also said currently, BBML generates most of its turnover by producing pipes, door panels and bathroom fittings. BBML now employs a staff of approx. 4,000. The planned expansion investment should lead to the creation of a further 1,500 jobs.
'We enjoy a good working relationship with Banga Building Materials and are now supporting the company in expanding its capacity in existing fields of activity and tapping into new ones. In doing so, we are contributing to strengthening local industry in Bangladesh,' Jochen Steinbuch said.  
RN Paul, Managing Director of RFL Group, Md. Israfil, Deputy Manager Corporate Finance Department of PRAN-RFL Group, Antje Steiner, Director Portfolio Management and Florian Borgmann, Investment Manager of DEG, among others, were present on the occasion.