Bangladesh polls: UK urges all to refrain from further violence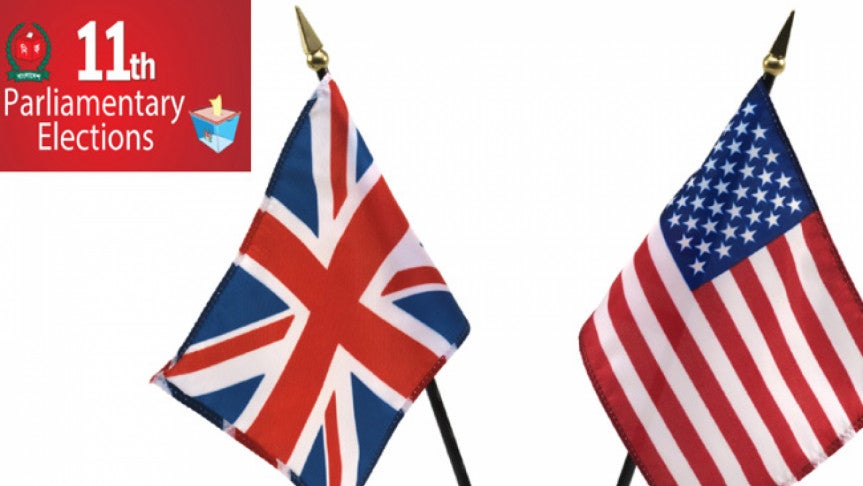 Dhaka: The United Kingdom has condemned recent political violence in Bangladesh and laid emphasis on a democratic election as the national election is scheduled to be held on December 30.
'We urge all in Bangladesh to refrain from further violence,' said British Minister of State for Asia and the Pacific Mark Field MP in a statement, reports the UNB.
He also urged all to deliver a democratic election, give Bangladeshis a properly representative Parliament that can propel their country to greater economic prosperity.
He expressed concerns that some civil society organisations in Bangladesh are being 'prevented' from observing the election.
'Independent domestic and international observers have a crucial role in helping to support a free and transparent process for the elections,' Mark Field said in a statement that he shared on Twitter.
The British High Commission in Dhaka also shared the statement on its verified Facebook page.
US Unhappy
The United States, meanwhile, has expressed disappointment over Bangladesh government's 'inability' to grant credentials and issue visas within the timeframe necessary to conduct a credible international monitoring mission to the majority of international election monitors here.
The observers are from the Asian Network for Free Elections (ANFREL), which the United States funded through the National Democratic Institute (NDI).
'As a result, ANFREL was forced to cancel its observation mission for the December 30 national election,' said Robert Palladino, Deputy Spokesperson at the US Department of State in a statement on Friday.
The US encouraged the government of Bangladesh to uphold its commitment to a democratic process by ensuring all Bangladeshis are free to peacefully express themselves and participate in December 30 election.
The lack of an international observation mission makes it even more important for the government of Bangladesh to complete the accreditation of all the local NGOs that constitute the Election Working Group, which includes some funded by USAID, so they can conduct the vital work of monitoring the election, Palladino said.
'In the lead up to any democratic election there must be space for peaceful expression and assembly; for independent media to do its job covering electoral developments; for participants to have access to information; and for all individuals to be able to partake in the electoral process without harassment, intimidation, or violence,' the statement reads.