National Election 2018: Voting continues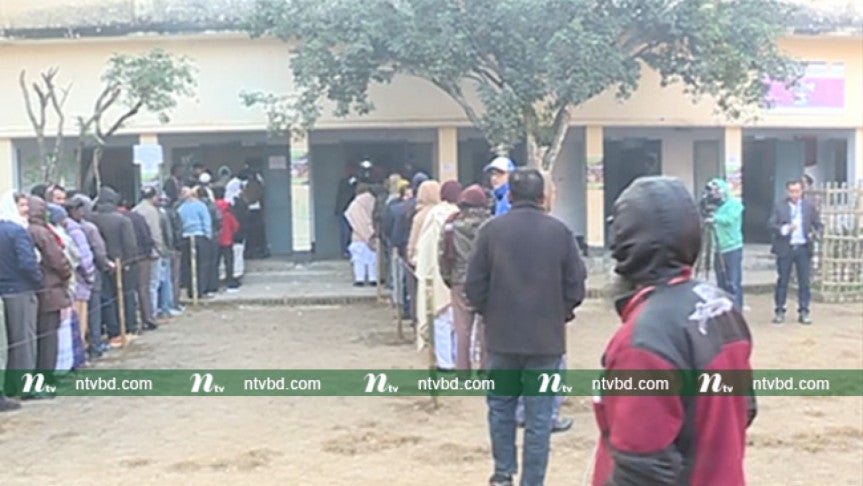 Dhaka: Voting in the 11th parliamentary elections is progressing as it began on Sunday morning with the Awami League-led ruling alliance seeking third straight term in office while the BNP-led coalition hoping for a comeback after12 years.   
The balloting began at 8am and will continue till 4pm without any break amid tight security with the deployment of over 7 lakh security members across the country, reports the UNB.
The country's people are going to witness a battle of ballot mainly between two major political camps –- AL-led Grand Alliance and Dr Kamal Hossian-led Jatiya Oikyafront–-in the election to be held with the participation of 39 registered political parties.
If Awami League wins the election, Sheikh Hasina will be at the helm of power for record fourth time.
BNP, which boycotted the January-5, 2014 polls, has been there in the election race without its chief Khaleda Zia for the first time since she took the helm of the party in the mid-1980s. Khaleda has been in jail since February 8 last as she was convicted in a graft case. Later, she was convicted in another case.
BNP nominated her as its candidate for Feni-1, Bogura-6 and Bogura-7 seats, but the EC and the apex court declared her ineligible for the election due to her conviction in graft cases.
People are exercising their voting rights in a competitive election being held after 10 years to elect their representatives for the next five years.
Chief Election Commissioner KM Nurul Hudaon Saturday directed law enforcers to create a safe environment for all and foil any bid to resort to anarchy and irregularities during the election. 
He also asked them to provide full security to the agents of candidates in performing the election duty.
The CEC warned that if anything (violence and irregularity) takes place in any place due to negligence and inaction of the members of law enforcement agencies, action will be taken against all of them following investigations.
Sheikh Hasina urged all, including her party candidates and followers, not to believe if BNP and Jatiya Oikyafront (JOF) announce their withdrawal from the election halfway through.
While coming out of the Combined Military Hospital (CMH) at Dhaka Cantonment after visiting critically injured DrMahbuburRahman, she also urged the voters to cast their votes and the candidates to collect the result-sheets having the signatures of presiding and returning officers.
Jatiya Oikyafront chief Dr Kamal Hossain urged the EC and election officials, including returning officers and assistant returning officers, to ensure  
Addressing a press conference at Dhaka Reporters' Unity (DRU), he called upon people to go to polling centres across the country in the morning to cast their votes.
Number of Voters & Centres
A total of 103,826,819 voters –- 52,371,616 males and 51,455,203 females -- are allowed to exercise their franchise in 299 constituencies out of 300 across the country.
However, the total of number of the country's voters is 104,238,677 voters --52,572,365 men and 51,666,312-- under the 207,312 booths of 40,183 polling stations in all the 300 constituencies.
The EC has postponed the election to Gaibandha-3 parliamentary seat following the death of the Jatiya Oikyafront candidate. The Gaibandha-3 polls will be held on January 27.
The EC finalised 40,051 polling stations with a total of 205,691 booths for the 299 constituencies. As per the police reports sent to the EC, 64 percent polling stations are important (vulnerable) across the country.
Number of Candidates & Parties 
In the 299 constituencies, a total of 1,861 candidates are running in the election.
Of the contenders, 1,733 are nominated by political parties and 128 independent ones.
As many as 272 candidates are running the election with AL's electoral symbol 'Boat' while 282 with BNP electoral symbol 'Sheaf of Paddy'.
Bangladesh Awami League fielded its own party candidates in 260 seats while shared 12 others with the partners of 14-party alliance. However, all the 14-party candidates are in the race with Awami League's election symbol 'Boat'.
Of them, five from Workers Party, three each from BikolpaDhara Bangladesh and JSD and one from Tarikat Federation are in the election race.
Besides, Jatiya Party's 175 candidates, including 26 under the AL-lead Grand Alliance--are contesting the election with 'Plough' symbol while Anwar HossainMonju is also in the election race under the Grand Alliance with his party JP's election symbol 'Bicycle'. 
Out of 299 seats, BNP and its alliance partners from Jatiya Oikyafront and the 20-party are running in 281seats in the election with 'Sheaf of Paddy'.
Besides, BNP's alliance partner LDP chairman Col (retd) Oli Ahmed has been in the election race from (Chattogram-14) with his own party symbol 'Umbrella 'while Jamaat leader HamidurRahman Azad from (Cox's Bazar-2) as an independent candidate.
BNP fielded its own candidates in 273 seats while shared 25 with its partners from the two alliances. However, its 16 candidates were declared disqualified by the court. The party extended its support to different independent and opposition candidates in the vacant seats.  
Of the 25 BNP alliance candidates, seven are from Gano Forum, four each from LDP and JSD (Rob), three each from KSJL and JamiatUlema-e-Islam, two from KhelafatMajlish and one each from BJP and Kalyan Party.
IslamiAndolan Bangladesh fielded highest 298 candidates from a single party who are in the election fight with their symbol 'Hand Fan'.
Security Measures for Polls 
A total of 608,000 security men remained deployed to guard all the polling stations across the country. Of them, some 121,000 are police members, 446,000 Ansar men and 41,000 are village police members, according to the EC's factsheet.
A security team comprising of 14-17 members is guarding each polling station.
In metropolitan areas, a 17-member security group having at least four police members with arms is ensuring security to each important (risky) polling station, while a 16-member group having at least three police members with arms to protect each normal station.
Outside metropolitan areas, a 16-member security team having at least two police members with arms is deployed in each important polling station, while a 15-member security group having at least one police member with arms in each normal polling station.
Besides, 12,420 Army personnel (414 platoons) now remained deployed on election duty in 389 upazilas, while 1,440 Navy personnel (48 platoons) in 18 upazilas, 1,260 Coast Guard members (42 platoons) in 12 upazilas, 29,490 BGB members (983 platoons) across the country and 18,000 Rab members (600 platoons) throughout the country.
Some 65,000 other security men, including Rab members, are engaged as striking force across the country to maintain law and order outside polling stations.
Police patrol teams in districts and metropolitan areas are engaged to maintain the election atmosphere across the country.
Apart from the security men, 1,328 executive magistrates and 640 judicial magistrates are in the election duty to punish violation of election code across the country.
EVMs in Six Centres
Out of the 299 seats, electronic voting machines (EVMs) are being used in six –-Dhaka-6 and 13, Chattogram-9, Rangpur-3, Khulna-2 and Satkhira-2.
A total of 2,124,554 voters can cast votes through 5,045 EVMs under 845 polling stations in the six constituencies.
Election Observers 
Over 26,000 election observers, including 163 from foreign organisations and missions, are monitoring the election.
Among 163 observers from foreign organisations and missions, 38 foreign nationals are from different organisations, including FAMBoSA, AAEA, OIC and Commonwealth, 64 foreign nationals from diplomatic or foreign missions and 61 Bangladeshi nationals from foreign organisations, missions and High Commissions stationed in Bangladesh.
Election Officials   
Over 6 lakh officials are there in the 40,051 polling stations across the country. Of them, 40,051 are presiding officers, 205,691 assistant presiding officers and 411,382 polling officers.
There are 122 electoral inquiry committees across the country to investigate election irregularities.
Election Schedule 
The CEC announced the election schedule on November 8 fixing December 23 as the voting day and but later it was rescheduled following opposition parties' demand.
Candidates started their election campaign on December 10 after the allocation of symbolswhich ended on 8am on Friday.
Election Manifestos
Most of the participating parties presented their election manifestos with lofty of promises.  
On December 18, AL President and Prime Minister Sheikh Hasina unveiled the party's 21-point manifesto promising to ensure urban facilities in every village and use the potentials of youths for the progress of the country with the slogan - 'Bangladesh on the march towards prosperity'.
BNP also presented its 19–point election manifesto the same day with a set of promises, including making democracy an everyday practice, building a vengeance-free Bangladesh and raising GDP growth to 11 percent.  
On December 17, Jatiya Oikyafront rolled out its 35-point election manifesto with various promises, including ensuring the balance between the power of the President and the Prime Minister, and introducing upper house in Parliament, to restore people's ownership of the country if it is voted to power through the upcoming election.
On December 14, Jatiya Party presented its election manifesto with an 18-point pledge, including formation of provincial government, to ensure good governance and consolidating democracy.