Cast votes braving bad weather: Atiqul to electorate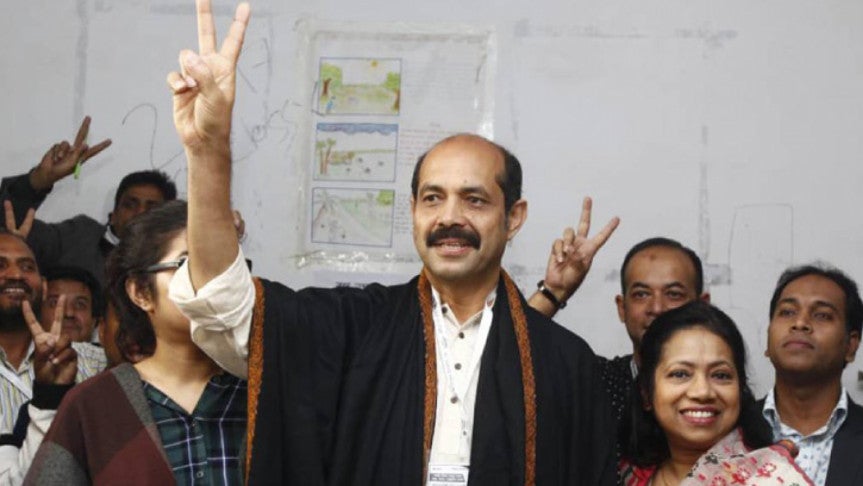 Dhaka: Awami League candidate for Dhaka North City Corporation mayoral by-election Atiqul Islam on Thursday morning called upon all the voters to exercise their voting rights braving the bad weather.
'It's raining today and it's a holiday as well. It's a voting day, too. I call upon all to come to polling stations after having kichuiri (mixed rice) and tea to exercise your democratic right,' he said.
Atiqul made the call while talking to reporters after casting his vote at Nawab Habibullah Model School and College polling centre in city's Uttara area, reports the UNB.
The AL mayoral candidate together with his daughter and wife went to the polling station to cast his vote, but the presence of voters was very poor at that time.
Atiqul, also a businessman, said he wants to turn Dhaka into a beautiful and modern city. 'I'll build a dynamic Dhaka keeping the pace with the country's current development and progress, if I'm elected.'
Replying to a question, the Awami League candidate said the election would have been more competitive and participatory had BNP joined it.
He also hoped that people will ensure his victory by casting their votes for 'Boat'.
Voting in the by-election to the mayoral post of DNCC, and in 36 wards of Dhaka north and south city corporations began at 8am amid rain and will continue until 4 pm without any break.
The voter turnout was seen poor in the morning due to the rain since early Thursday.
Five candidates are vying for the mayoral post, while 116 contenders for 18 general councillor posts and 45 aspirants for six reserved seats which are exclusively for women. Of them, one general councillor candidate was elected unopposed in the city.
The five mayoral candidates are Awami League's Atiqul Islam (Boat), Jatiya Party's Shafin Ahmed (Plough), NPP's Anisur Rahman (Mango) and PDP's Shahin Khan (Tiger) and independent runner Abdur Rahim (Table Clock).