Trump cafe lures Bangladeshis keen for pics, not politics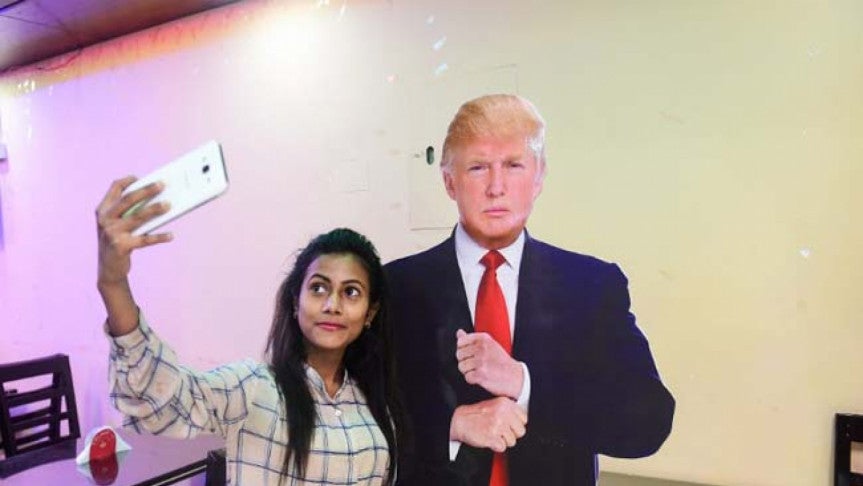 Dhaka, Bangladesh: A cafe in Dhaka named after Donald Trump has been luring Bangladeshis undeterred by his controversial politics and more interested in snapping selfies with a life-size cutout of the US president.
The cafe was opened in January by a self-professed Trump fan who rejects the notion that the US president is 'anti Islam', saying diners at his cafe in the heart of Muslim-majority Bangladesh agreed.
"If he were anti-Muslim, he would not have visited Saudi Arabia and had a good time there," cafe owner Shafiul Islam told AFP, adding none of Trump's decisions had affected Bangladesh's 144 million-odd Muslims.
Politics appears to be last thing on many diners' minds as they pose for photos with a cardboard cutout of the US president, placed strategically at the entrance by 29-year-old businessman Islam.
"Girls are his bigger fans. They come to take selfies with the Trump picture. Children love him too," he said, adding more visitors snapped photos than ordered food.
The cafe serves Thai, Chinese and Indian dishes, with specials given names like the "Trump burger".
CNN is broadcast to give an extra American flavour, while the wi-fi password is "Ivanka Trump".
But it's the pull power of the man himself bringing in curious customers.
Nuzhat Sultana, said the cafe -- which Islam says will soon include wallpapered images of the Oval Office and Trump's family -- was "very fascinating".
"The best part is the sudden illusion when you enter the cafe and see the US president welcoming you at the door!" she said.