Le Reve's Eid-ul-Adha collection launched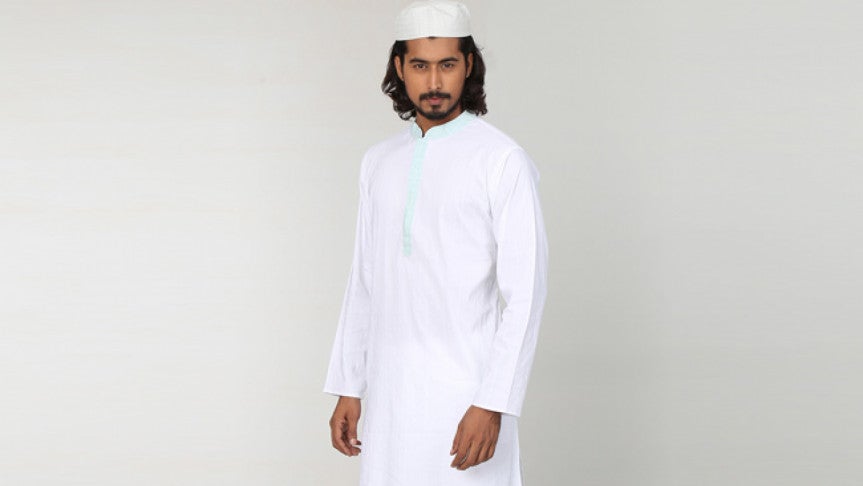 Le Reve recently launched its Eid-ul-Adha Collection '18 in stores, which has modern ethnic and casual wear options for men, women and kids.
This year's Eid collection is inspired by sensei. Monnujan Nargis, CEO Le Reve shares that for women's wear we have used Japanese inspired silhouette and prints such as wrap over style, kimono style, cape style in collections, sleeves: flare sleeves, kimono sleeves, bell sleeves with slit, patterns for prints are ditsy floral, cherry flower, different orchid, Japanese paper fans, umbrella and shibori dyeing technique and other floral prints. Colour palette is about warm and Jewel tones matching with Neutral and earthy shades are used in collection.
Women's wear Collection inspiration is from a woman who has achieved a certain level of mastery in an art form or some other skill. Complex and innovative, Women's wear highlights are exclusive styling of Salwar Kamiz, reworked tunics with elements like tassels and prints, and voluminous bottoms whether its Culottes, Palazzos or Harems. Collection is also experiments of Flounced and Kimono sleeves and wrapped tunic styling. Traditional shibori dye techniques add a sense of tranquillity to minimalistic lines with oriental floral motifs. Mirror works and embroideries usage gives attractive contemporary silhouettes. There is an active influence with silk crepe de chine, rayon, satin, chiffon, linen, cotton voile materials. Details are utility based, including embroidery, variety of sleeve and tassel ties. Contrasting prints, mixed media, and contrast stitching are incorporated in the collection enhancing occasional aspect.
Men's Wear Collection inspiration is about 'comfort in convertible style and peace', which essentially is tailored clothing with a focus on asymmetrical silhouettes and perfection. Men's wear collection represents the 'man of today' who is always on the move and full of silent energy—a Zen superhero on the search of self-enlightenment. This guy finds good spirit through perfected design and smart tailoring. Collection colour palette combines dramatic shadows with the neon bright. Monastery greys and near-black shades of green meet intense purple, green and orange. This year's collection highlights are lightweight cotton dobby, prints and European Premium Quality Shirt collection with matching range of Chinos and Denim with varied quality washes and fine tailoring. Panjabi collection is a mix of surreal motifs of Jacquards prints and fine embroideries which can be carried in various occasions. To get a classic traditional look ample choices of Pajama styles are available.
New bottom styles for Men have been offered in the casual category keeping the changing season in mind for fashion savvy customers.
If you are looking for something chic and modern for your kids this festive, Le Reve Kids and New Born Collection has some adorable pieces for your little ones.
The Kids collection has got various designs in contemporary as well as ethnic items. Trends like the shoulder cut out, wrap style tops and cape stylings are prime silhouettes in girls, for boys it has been focused with the individualistic conversational prints and Imaginary Characters. The boy's collection highlights are its Panjabi collection which has a classic pattern in bold hues. The Girls collection highlights are modern floral designs along with necklines having fabric and pearl buttons in frocks, woven set, Salwar Kamiz and Dupatta and Ghagra Choli.
Material used this year include  cotton and silk blends, burnout, jacquard, patterned terry/appliquéd, Smocking, Satin, Swiss dots, ruffles, brocade and cut jacquard, handloom tweed, iridescent sheer, fluid jersey, fancy pile, patchwork and rib knits. .
Le Reve products are available at all its stores and at lerevecraze.com.