3 Bangladeshi cyclists cross highest mountain pass 'Thorong La'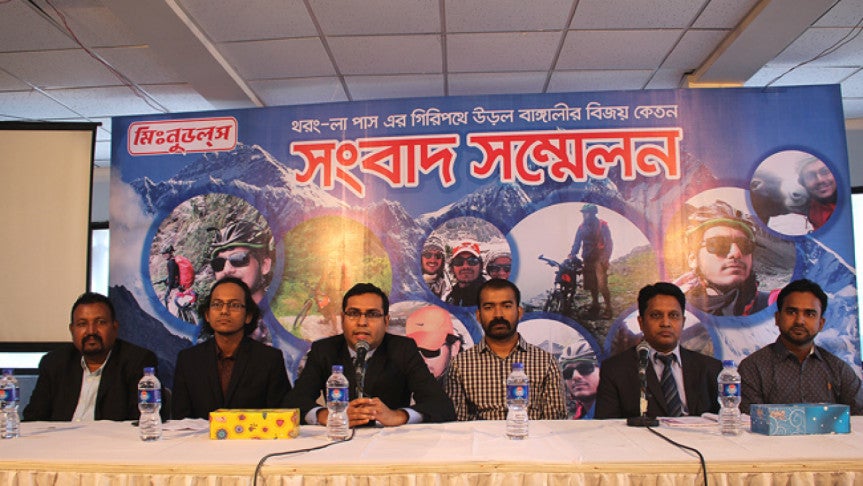 Three Bangladeshi young cyclists Abdullah Taher Chowdhuary, Ariful Islam Bhuiyan and Abhimonyu Saha, successfully crossed Thorong La, one of the highest mountain passes in the world at Nepal, on riding Bi-cycle.
The mission has been organized by Obhijatree with the support of popular noodles brand Mr. Noodles and Trekkers of Bangladesh.
As a part of their achievement, Mr. Noodles will distribute 10 thousands packs of noodles among orphanages. It was announced through a press conference held at a hotel in Dhaka on Monday.
Toshan Paul, category manager, Riyadul Islam, Brand Manager of Mr. Noodles, Shujan Mahmud, Head of Media at PRAN-RFL Group and Tariq Obaida, President, Trekkers of Bangladesh were present at the program.
Abdullah Taher Chawdhuary said, 'We were able to cross Thorong La, at the altitude of 5416 meters in Nepal on 18 September last year. It was not so easy to do this on riding bi-cycle. But we did it finally for doing something for our motherland'. He thanked Mr. Noodles authority to support this mission.
Toshan Paul said, 'We are glad to participate such an adventurous mission that brought honor to the country. The three riders wanted from us to distribute ten thousands packs of Noodles among orphanages. So, we will start distributing noodles through two orphanages, Islamia Mission Etimkhana, Dhaka and Ubida Madrasa Etimkhana, Chittagong.