Deadly mass shooting in New Zealand since 1990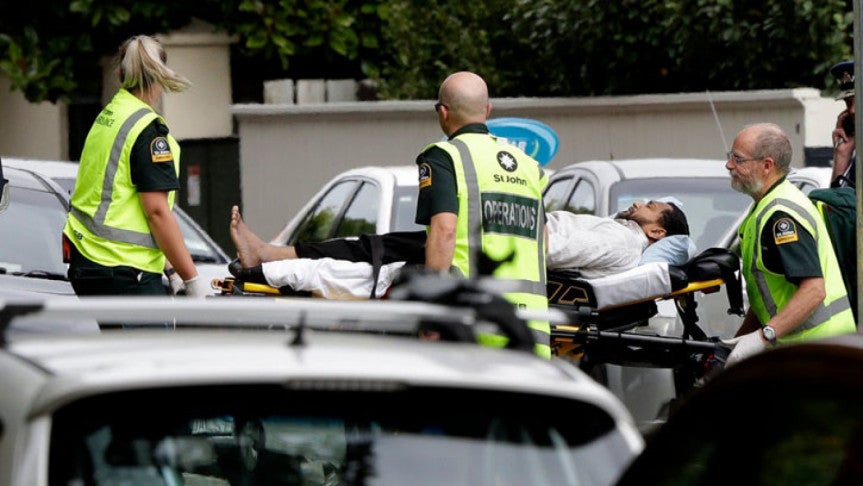 Wellington, New Zealand: A gunman opened fire on two mosques in central Christchurch, New Zealand, on Friday, killing multiple people in an afternoon slaughter that in part was broadcast live online after the publication of a white supremacist manifesto.
A man who claimed responsibility for the shootings left a 74-page anti-immigrant manifesto in which he explained who he was and his reasoning for his actions. He said he considered it a terrorist attack.
The shooting happened a day after the country's minister for climate change, James Shaw, 45, told the police that he was grabbed and hit on the street in the country's capital, Wellington, reports nytimes.com.
In New Zealand, members of the public are accustomed to seeing their top government officials at the grocery store or on the street, unencumbered by security guards as is more common in other parts of the world.
The country's prime minister, Jacinda Ardern, even jokingly recounted to Stephen Colbert on the 'The Late Show' about being approached by chatty strangers while she shopped for maternity bras.
But on Thursday morning, a government minister was attacked while walking to work alone in the capital city, leading Ardern to warn that New Zealanders' unusual level of access to the country's lawmakers should not be taken for granted.
'We have an environment in New Zealand where politicians are accessible, and that's something we should feel proud of,' Ardern said. 'We are, after all, here to serve people. But today's events really show we cannot take that for granted.'
The victim, James Shaw, 45, a co-leader of the left-leaning Green Party and the minister for climate change, told the police that he was grabbed and hit in the Thursday morning attack, leaving him with a black eye and cuts on his face. After being treated at the scene, he went on to attend a meeting at Parliament before admitting hielf for examination in a hospital, where he remained on Thursday afternoon.
Pete Huggins, a Green Party spokesman, said Shaw had told the police that his assailant knew his name, although officers have not said whether they believe the attack was planned, or what motivated it.
The episode rattled New Zealand, which Huggins described as 'a very close-knit community and a very open society.'
Unlike in many countries, including the United States and Britain, the prime minister is the only lawmaker accompanied round-the-clock by security personnel; government ministers and other lawmakers are not. Residents of Wellington, New Zealand's capital, regularly see elected officials walking or cycling the streets alone, and some politicians opt to take public transportation rather than using government vehicles.
'I would hate to see that go,' Marama Davidson, a lawmaker who leads the Green Party with Shaw, said during a news conference Thursday.
'It would be a shame to lose the way that people can approach us and access us in this country,' she added. 'That's one of the things I value about the way we do politics here in New Zealand.'
The police have arrested and charged a 47-year-old man in the attack on Shaw. The man, whom the police did not identify, will appear in the Wellington District Court on Friday.
Lawmakers from across the political spectrum joined in condemning the attack. Wellington's mayor, Justin Lester, wrote on social media that the assailant's behaviour had been 'outrageous' and that New Zealanders were 'lucky to have unparalleled access' to their elected representatives.
Members of the public also expressed shock. One Twitter user branded the attack on Shaw 'an assault on democracy.' Another said it was hoped that the attack was 'an awful one off and not a canary in the coal mine moment' for New Zealand.
Bryce Edwards, a veteran New Zealand political commentator, said that down-to-earth qualities commanded respect from New Zealanders. 'We like our politicians to be 'one of us' not 'above us,'' he said.
While it was not clear whether the attack was politically motivated, some lawmakers took the opportunity to denounce what they said was a trend toward over-the-top reactions by people who disagreed with politicians.
There hasn't been a mass shooting in New Zealand since 1990, when a man killed 13 people, including two 6-year-olds, after a dispute with his neighbour in the seaside town of Aramoana.
That shooting led to tightened gun laws, including restrictions on 'military style semiautomatic weapons.'
Gun owners must be licensed, a process that includes a review of criminal activity and mental health, attendance at a safety program, an explanation of how the gun would be used, a residence visit to ensure secure storage, and testimonials from relatives and friends.
Murders are rare in New Zealand, and gun deaths even rarer. There were 35 murders countrywide in 2017. Since 2007, gun homicides have been in the single digits each year except 2009, when there were 11.
But there are plenty of guns. There were 1.2 million registered firearms in a country of 4.6 million people in 2017, according to the Small Ar Survey, a Swiss nonprofit.