NTV's Chief of Correspondents Arifur Rahman receives prestigious award in US
The chief of correspondents of NTV, Arifur Rahman, has been awarded for his significant role in media business, on behalf of the famous Bangladeshi-American band "FreedomAge" at Los Angeles in the USA on 16 July. In that memorable occasion, the founder and lead vocalist of FreedomAge band Sami Nobel handed over the crest to him. The bass guitarist Lucky Islam and other members of the band as well as honourable guests were also present to cheer Arifur Rahman for his achievement.
Arifur Rahman has been engaged in journalism and reporting for almost two decades. To explore the truth and informative reports, Arif has chosen to dedicate himself for crime reporting. From the perspective of Bangladesh, crime section in media is a dangerous zone where risk is in every step. Arif has survived showing great courage, which added significant value in crime reporting in Bangladesh. He was active in not only investigating the incidents, but also finding out the proper solution.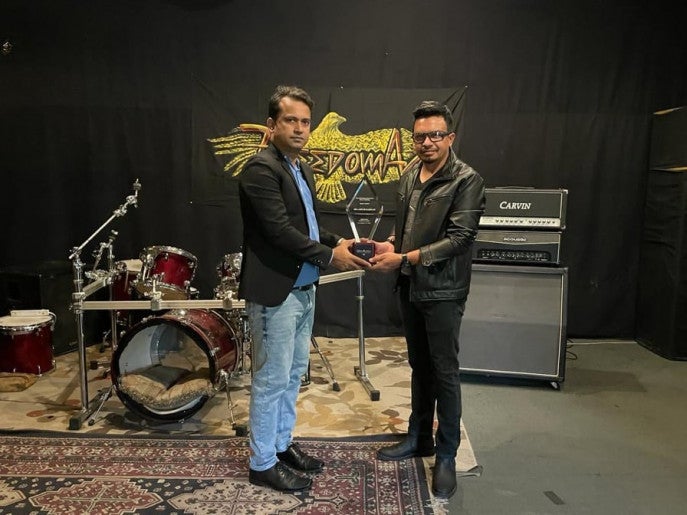 Besides reporting, Arifur Rahman has expertise in anchoring TV shows such as "News Inside", "Probash Jibon", "Covid-19 Coronay Koronio", "Birsreshthoder Bijoy Gatha", "Mayer Bhasha", and "Muktir Aloy Bangladesh", which has achieved popularity among the viewers and audiences.
Arifur Rahman is famous as a brave journalist in Bangladesh, and he has been entitled to the special award as an inspiration towards his professionalism. On this occasion Arif said, "Any achievement makes me happy, and I appreciate the award entitled to me. My enthusiasm to my work does not aim to get awards, I work for the people. But getting recognition always inspires me and accelerates activeness to my work and that is what I am feeling right now. I am grateful to FreedomAge band for this recognition, and I wish and expect prayers from everybody to continue my good work and share the latest information to the people."
Arifur Rahman has been entitled to other awards before for his significant role in journalism. He also travelled in several countries such as the USA, Australia, China, Saudi Arabia, Singapore, Malaysia, Indonesia, Thailand, India, Nepal, Bhutan, and Myanmar for official as well as personal tour.
The host, FreedomAge band, is a Bangladeshi American rock band formed in 2010 by a group of talented musicians at California's Los Angeles in the USA. The goal of the band is exploring Bangladeshi as well as South-Asian music and culture to the audiences all over the world. For more than a decade, the band is performing as well as representing the culture that achieved popularity among the audiences.