Adorable moment young girl rides on man's back during daily prayer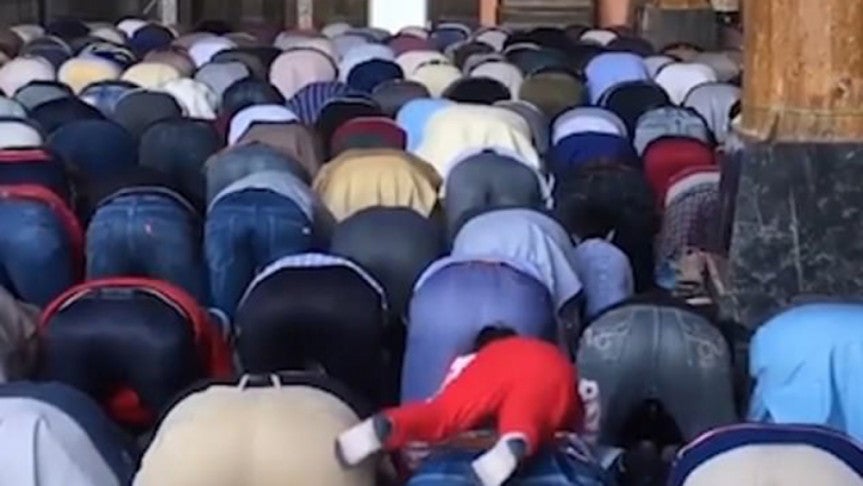 This is the adorable moment a playful young girl decides to ride on a man's back during daily prayer inside a mosque. 
The amusing scene took place inside the historic Jamia Masjid mosque in Srinagar, in India's northern Jammu and Kashmir state. 
In video taken on Saturday, May 11 the young girl can be seen entering a throng of worshipers in the midst of prayer, reports the dailymail.com. 
As is typical in Muslim worship, the group is knelt down in prostration raising and lifting their heads as part of the daily prayer ritual. 
But as their heads are down, the mischievous young girl clambers on to one of the men and wraps her arms around his sides. 
She is launched upright when the worshipers lift their heads from the ground, before removing her arms from the man's side. 
When the group drop their heads to the ground once again however, the young girl fancies another ride and wraps her arms around the man once more. 
She desperately clings on as she is launched forward and back, but on the third occasion loses her balance and slithers forward off his back. 
The two are likely related as the man does not flinch while offering prayers, despite the young girl's antics.     
Meanwhile, the footage stuck a chord with social media users, who appreciated the content. Some users also recounted their experiences of when they were young.
The mosque in Srinagar dates from 1402 and is considered one of the most important in Kashmir. Hundreds of Muslims pray inside, and it is a prime tourist attraction in the city.