Creative Writing and Storytelling Workshop held at Notre Dame University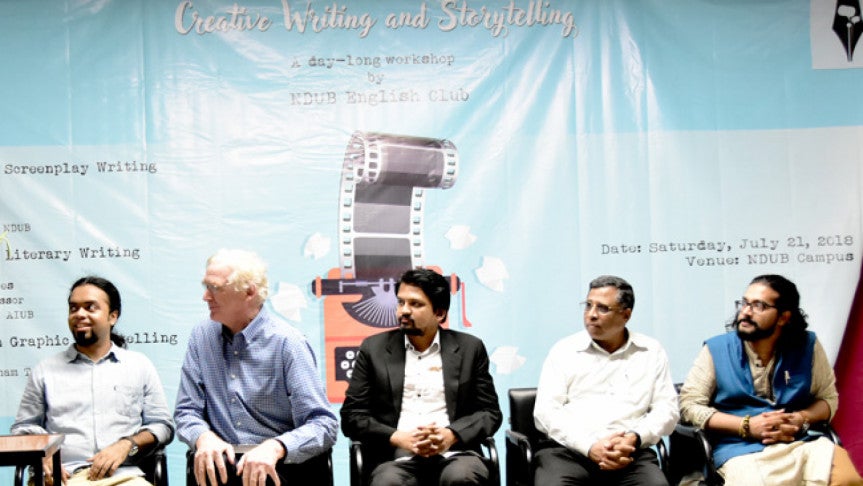 Dhaka: A day-long workshop on Creative Writing and Storytelling, organsied by Notre Dame University Bangladesh English Club (NDUBEC), was held at Notre Dame University premises which was categorized in three sessions: Screenplay Writing, Literary Writing, and Graphic Storytelling.
NDUB Vice Chancellor Professor Dr Fr Patrick Daniel Gaffney was present as chief guest, NDUB Registrar and Chairman, Department of English Fr Adam S Pereira was the special guest in the event on Saturday (July 21, 2018).   
The sessions were conducted by Ahmed Tahsin Shams, Lecturer, Department of English, Notre Dame University Bangladesh (NDUB), Theotonius Gomes, Assistant Professor, Department of English, American International University Bangladesh (AIUB), Syed Rashad Imam Tanmoy , Editorial Cartoonist, Dhaka Tribune respectively. 
The first session began at 11am on Screenplay Writing where Shams discussed numerous screenplay techniques and participants, not only from NDUB, but also from other universities and colleges in Dhaka, step by step followed direction and penned down their concept, characters, setting, plot, and script actions. Applying different stylistics of screenplay, finally, participants were divided in 7 groups who submitted 7 stories that would get funds from Avant-garde Productions for filming.  The 7 themes are: Youth, Social Media, Class Conflict, Self, Gender, Dhaka City, and Relationship. In order to engage the youth in creative endeavours, such initiative is undertaken by NDUBEC. Shooting schedule of these short films will be announced soon and thus young participants will learn the process of visual storytelling. 
Shams concluded, 'Narration techniques can make your story different even if the plot is a cliché. For instance, always think: who is telling the story, from whose perspective the viewers are knowing the message. It could a character in the script, it could be objects, it could be nature, diary, third person narration, and what not.'  
The second session was on Literary Writing where Theo Gomes shared the process of composing poems, lyrics, and short stories in Bangla and English. The use of metaphors, similes, imageries were practically exercised from 2pm-4:30pm, leading the participants to open up with their own creative writing. Theo focused on various themes and use of imageries, sound, and smell in literary writings. The best 10 writings will be published in national dailies and NDUB English Club online magazine.
Theo concluded, 'Literary writing does not instruct, rather shares the experience aimed at humanitarian cause. Imagination works as healer. But never let your writing be done in one sitting, because writing is revision.' 
The concluding session, started at 5pm and ended at 7:30pm, was conducted by celebrated cartoonist Syed Rashad Imam Tanmoy who applied such a technique where everyone became a graphic storyteller. Starting with the basics of drawing cartoons, how to draw frames and panels for characters and dialogues in cartoons or comics, Tanmoy made the participants engage with various themes to work on. The best cartoons will be published in NDUB English Club online magazine.
Tanmoy encouraged the participants, 'The world's best graphic storytellers or cartoonists always applied simple figures and drawings to convey their message. That is the utmost importance: to deliver your message in the simplest form. Those who can draw 'stick' human figure can also tell their story beautifully. Storytelling is an art, drawing is the medium.'
The curtain was drawn by honoring the guests who conducted the workshop, as well as the participants were provided certificates for their youthful enthusiasm and active participation.