Ekushey Book Fair ends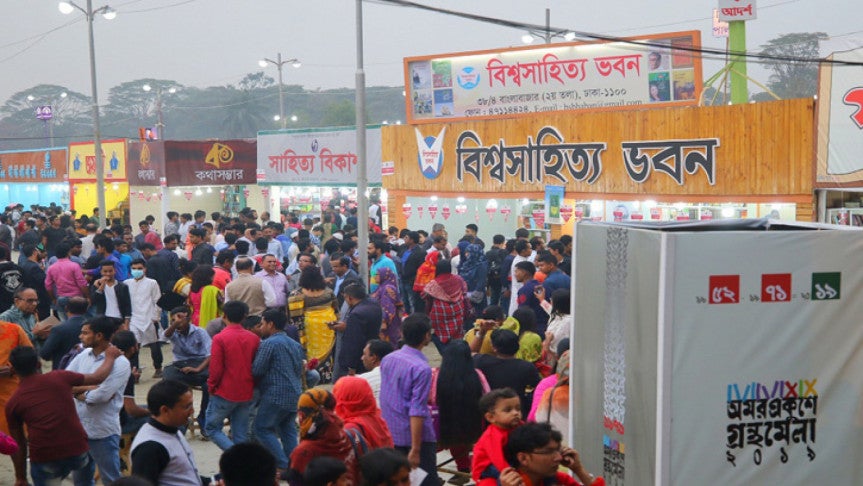 Dhaka: The extended Amar Ekushey Book Fair ended Saturday, recording huge sale and witnessing a mass gathering of book lovers.
The fair was originally scheduled to end on Thursday but the government extended it. In the last days, many visitors complained that they could not find the books they were looking for. Most of the stalls also displayed fewer books.
Many publishers said the sale during the extended period was satisfactory, reports the UNB.
Altogether, 4,834 books were published in the fair. Of them, 1,608 books were on poetry, 698 novels, 757 short stories and 272 essays.
Books on research (80), rhyme (148), children literature (150), biography (167), compilation edition (15), Liberation War (110), drama (43), science ( 77), travelogue (85), history (77), politics (33), medicine and health (3), riddle (37), computer (5), religion (25), translation (38), dictionary (6), science fiction (45) and others (330) were also published.
Bangla Academy, the host, exhibited 102 newly printed and reprinted books this year.
Last month, publishers sold books worth around Tk 78 crore – nearly Tk 7.5 crore higher than the previous year. Bangla Academy also had a brisk Tk 2.15 crore sale till February 28.
Daily discussion events were held on the main stage on the academy premises. Poet Jasimuddin Literature Award 2019 was awarded to poet Nirmalendu Goon. 
At the closing ceremony on Feb 28, Bangla Academy handed over awards to winners of its 'Gunijon Sahitya Puroskar' chosen from among the publishing houses that participated in the fair.
'Kothaprokash' received the 'Chittaranjan Saha Smriti Puroskar 2019', while 'Munier Chowdhury Smriti Puraskar 2019' was given for the publication of aesthetically rich and standard content in books published in 2018.
The award was received by Prothoma publication for 'Bidrohi Ronoklanto' by Golam Murshid, Journey Books publication for 'Monorothe Shilper Pathe' by Moinuddin Khaled and Chandrabati Academy for 'Muthor Vetor Rod' by Maruful Islam.
The 'Rokonuzzaman Khan Dadabhai Smriti Puraskar' was awarded to Panjaree Publication for publishing excellent books for kids, while 'Qayyum Chowdhury Smriti Puraskar' was given to three publications – Maddoma (Single Unit), Batighar (Multi-Unit) and Panjaree Publication (Pavilion) for best interior design which is aesthetically rich.