Seminar on modernism and postmodernism held at DUCSU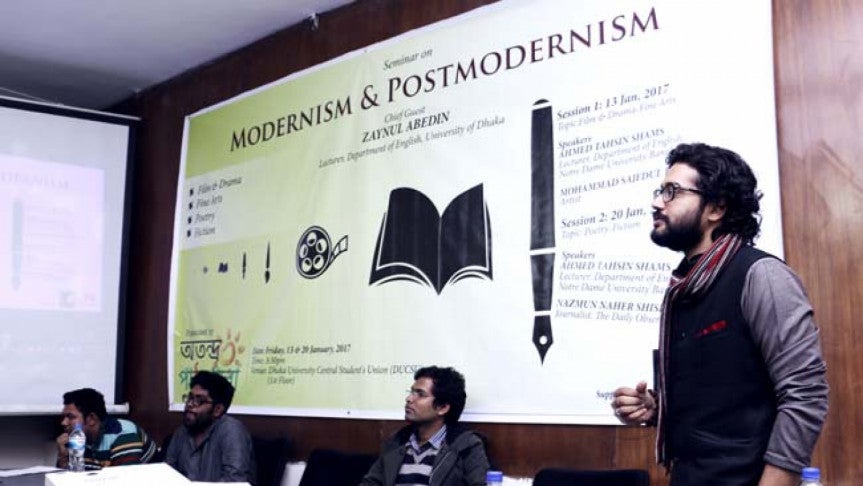 Dhaka: A two-day seminar on 'Modernism & Postmodernism: Film & Drama, Fine Arts, Poetry, Fiction' was held on January 13 & 20, 2017, at 3:30pm, at Dhaka University Central Student's Union (DUCSU), organized by Atandra Pathshala, a wing of Atandra Bangladesh. Zaynul Abedin, Lecturer, Department of English, University of Dhaka, was present as chief guest.
The first day of the session (January 13, 2017) was on modern and postmodern film & drama, and fine arts, discussed by Ahmed Tahsin Shams, Lecturer, Department of English, Notre Dame University Bangladesh, Mohammad Sajedul Haque, artiste from Institute of Fine Arts, University of Dhaka.
Zaynul inaugurated with his precise speech on postcolonial literature and contemporary literary scenario. Shams elaborated the differences between modern and postmodern film and drama, along with practical and literary references. Sajedul concluded the first session with a historical approach of fine arts from modern to postmodern period.  
The second day of the session (January 20, 2017) was on poetry, fiction, discussed by Ahmed Tahsin Shams, and Nazmun Naher Shishir, journalist, The Daily Observer.
Shams brought into light postmodern poems, not only from West, but also from East, and discussed the changes of poetic forms and perspectives based on modern and postmodern theories. Shishir pulled off the curtain with postmodern theories implied in fictions that differentiate those from the modern fictions. 
Aninda Adhikary, Director of Atandra Pathshala, and Zulias Cezar, Founder Chairman of Atandra Bangladesh initiated this open-for-all seminar and wished to continue further.