Flood maroons thousands in Kurigram, Lalmonirhat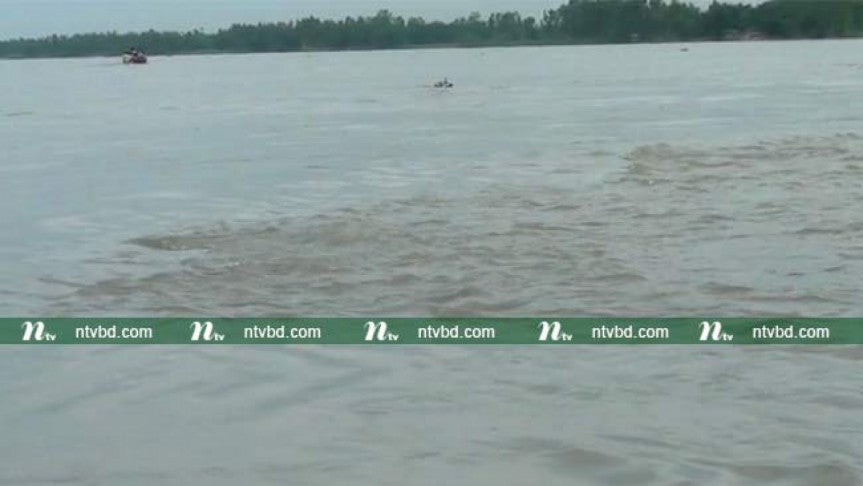 Hundreds of thousands of people were marooned in floodwater in Kurigram and Lalmonirhat due to the rise of water levels of Brahmaputra and Teesta rivers following heavy downpour and onrush of water from upstream hilly areas.
In Lalmonirhat, more than half lakh people of shoal areas of Teesta and Dharala rivers were trapped in floodwater.
At least 63 villages of Hatibandha, Kaliganj, Aditmari, Sadar upazilas had been remaining under floodwater for the past few days.
The water level of Teesta River is flowing 18 centimetres above the danger level while Dharala River water is flowing above 13 centimetres above danger mark.
Embankments in Shiberkuti area of Kulaghat upazila and in Dhuni area of Hatibandha broke down as Indian government has opened 54 gates of Gajaldoba barrage.
Following the incident, the Teesta Barrage Authority is trying to control the water by opening 44 gates of the barrage, according to sources at local office of Bangladesh Water Development Board.
The people were suffering from scarcity of pure water, sanitation, food and shelters, witnesses said.
In Kurigram, the overall flood situation of the district has further deteriorated as new areas are going under water due to the increase of water levels of all the rivers including Brahmaputra, Teesta, Dharla, Dudhkumar.
The water level of Brahmaputra River is flowing 20 centimetres above the danger level at Chilmari point while Dharala River at Bridge point is flowing 12 centimetres above the danger mark.
More than 1.5 lakh people of over 200 villages of Ulipur, Chilmari, Roumari, Rajibpur and Sadar upazilas have become marooned. Scarcity of food and pure water has become acute in the flood-affected areas and normal life is being hampered as many roads went under water. People are facing acute shortage of food and drinking water.
Waterborne diseases were spreading fast in the flood-hit areas while no relief or medicine reached yet.
At least 80 educational institutes were shut down following the flood, said locals, adding that hundreds of hectares of cropland were inundated.
District Civil Surgeon Dr SM Aminul Islam said a total of 88 medical teams have been formed for rendering services to the flood victims.
Moreover, the district health department has cancelled all kinds of leave for its staff including doctors and health assistants to tackle any situation, he added.
Contacted, Deputy Commissioner of Kurigram Abu Saleh Mohammad Ferdous Khan said some 2,000 packets of dried food, 150 metric tonnes of GR rice and Tk 3,25,000 were allocated for the flood affected people. So far, the overall situation is under control, he further said.