BNP to forge unity with people over Rohingya issue: Fakhrul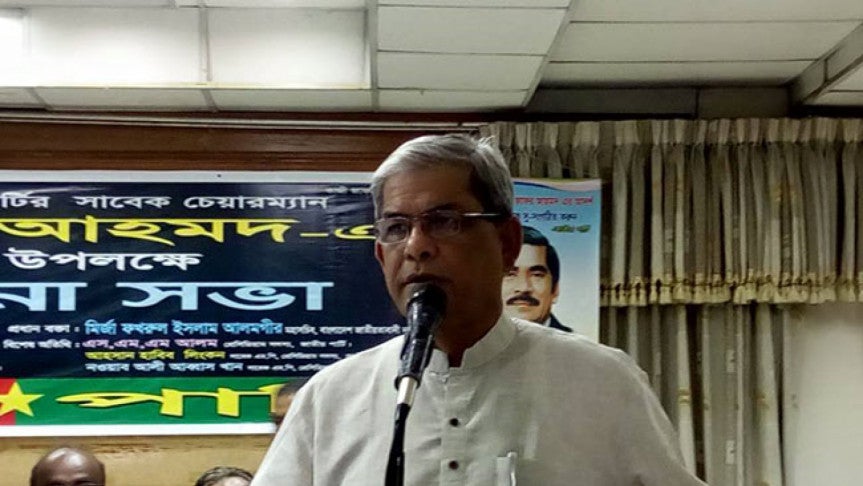 Dhaka: Bangladesh Nationalist Party (BNP) secretary general Mirza Fakhrul Islam Alamgir on Saturday said their party will forge a unity together with people to tackle the Rohingya crisis if Awami League fails to do so due to its submissive politics.
"You (govt) couldn't yet call the Myanmar's persuasion on Rohingyas as genocide, and condemn it either. This has manifested you're still following submissive politics. You don't want to make unity with BNP over the issue fearing that those countries supporting Myanmar may become unhappy with you for it," he said.
Speaking at a discussion, the BNP leader further said, "We call upon the government to shun its narrow politics and arrogance. We'll surely create a national unity with people to face the Rohingya crisis."
Jatiya Party (Zafar) arranged the programme at the Institution of Diploma Engineers, Bangladesh marking the second death anniversary of its ex-President Kazi Zafar Ahmed.
BNP has been calling upon the government for forging a national unity to tackle the Rohingya problem and force Myanmar to take back its citizens.
However, Prime Minister Sheikh Hasina on Friday turned it down saying that there is no need to sit with the BNP to make a national consensus on the Rohingya issue.
Fakhrul said their party thinks Myanmar is carrying out genocide against Rohingyas and the country should stop it immediately paving the way for repatriating the refugees.
He recalled that their party had handled the past Rohingya problem successfully in 1978 and 19192 forcing Myanmar to take back its citizens. "You can follow the example and hold discussions with Myanmar to overcome the crisis."
The BNP leader bemoaned that China which was used to stand by the persecuted people is now failing to realise the Rohingya issue. "India which supported our Liberation War and gave us shelter in the country taking a stance against genocide in 1971 also can't understand the problem."
He called upon the two influential countries of the region to side with the repressed people to end repression on them and repatriate them with dignity and rights.