Padma Bridge now visible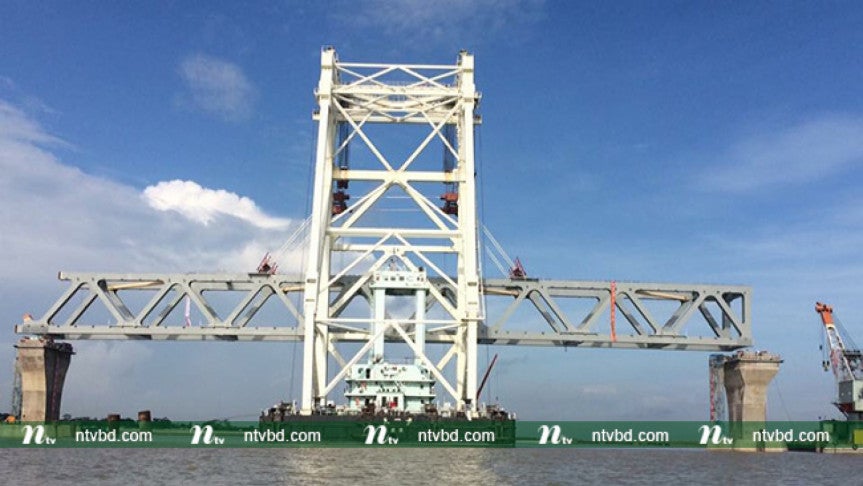 Munshiganj: The much-hyped Padma Bridge is now a visible reality as the first span (superstructure) of the bridge has been placed on pillars on Saturday morning.
The 150 metres long span was installed on the pillar No 37 and 38 that took two hours, starting from 8:00 am.
'Through the installation of first span, the Padma Bridge is now a visible reality, removing all uncertainties', said Road Transport and Bridges Minister Obaidul Quader.
The long-cherished Padma Bride has been progressed one step forward through this span installation, he added.
Munshiganj-2 constituency MP Shagufta Yasmin Emily, Bridge secretary Anwarul Islam, Padma Bridge Project Director Shafiqul Islam, engineers concerned of the Bridge, Bangladesh Army general Abu Sayeed, representatives from China Major Bridge, among others, were present.
The construction work is going on in a full swing to finish the project by the stipulated time, said Quader.
The second span will be installed on pillar No. 38 and 39 in the last end of October, he said, adding that the construction work of pillar No. 39 will end soon.
The construction work of the much-talked Padma Bridge started in December in 2015.
Around 47 percent of the bridge had been completed so far.
It is expected that the mega construction will be completed by December next year.