MK Anwar laid to rest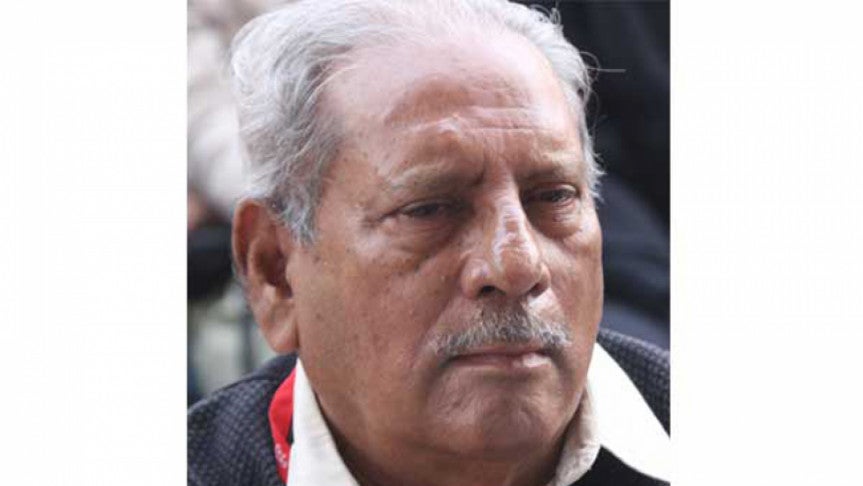 Comilla: BNP standing committee member and former minister MK Anwar, who died early Tuesday, was laid to eternal rest in Homna upazila here on Wednesday.
Mohammad Khorshed Anwar, popularly known as MK Anwar, was buried at his family graveyard in the upazila headquarters around 5:30am after his fifth and final namaz-e-janaza at Homna Ideal High School field after Asr prayers.
BNP leaders and activists, locals, family members and relatives attend the namaz-e-janaza and the burial.
The BNP leader's body was taken to Comilla's Titats from the capita's Birdem mortuary around 12 noon and his fourth janaza was held at Gazipur Khan Model High School ground in the upazila after Zohr prayers.
Anwar, a bureaucrat-turned politician, breathed his last around 1:20 am on Tuesday at his Elephant Road residence in the city at the age of 84.
He is survived by wife Mahmuda Anwar, daughter Khadiza Anwar and two sons Mahmud Anwar and Masud Anwar, and a host of relatives and followers to mourn his death.
The BNP leader's first namaz-e-janaza was held at Katabon Mosque at 10:00am on Tuesday, while the second one at Nayapaltan in front of BNP's central office at noon and the third one at the South Plaza of Jatiya Sangsad Bhaban around 1:30pm.
Later, the body was kept at a mortuary of Birdem Hospital overnight on Tuesday.
As his son, Masud Anwar and the daughter reached Dhaka from the USA, Anwar's body was taken to Comilla from the mortuary by road.
After his retirement from public service as the Cabinet Secretary in 1990, he joined BNP in 1991 and was inducted in the cabinet twice in 1991 and 2001 when the party came to power.
He was elected MP five times from Homna (Comilla-2) constituency.