Govt involved in incidents of enforced disappearances: BNP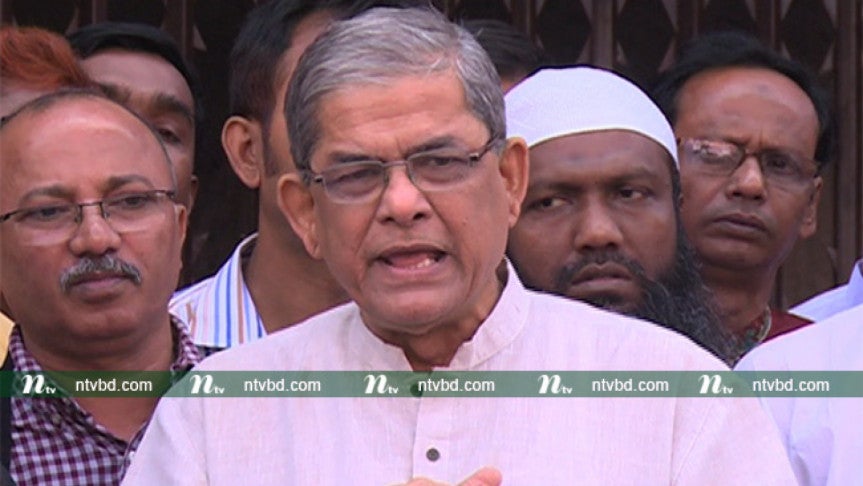 Dhaka: BNP secretary general Mirza Fakhrul Islam Alamgir on Friday said Prime Minister Sheikh Hasina through her statement in parliament on enforced disappearance has admitted that the government has involvement in it.
'The Prime Minister talked about enforced disappearance yesterday (Thursday). With her remarks, she has admitted that they (govt) are involved in the incidents of enforced disappearance.'  
He came up with the comment while talking to reporters in front of BNP's Nayapaltan central office.
Earlier on Thursday, the Prime Minister Sheikh Hasina said in parliament that the incidents of forced disappearances are not only taking place in Bangladesh, but also in developed countries.
She said some 2.75 lakh Britons were subjected to forced disappearances while some 20,000 were still missing.' When it comes to America, the situation is more horrible.'
Reacting to her comments, Fakhrul said the government is making its opponents disappeared in Bangladesh using the law enforcement agencies. 'The incidents of enforced disappearance have been taking place in Bangladesh over a few years…families of all the victims are saying their near ones have been picked up by law enforcers.'
The BNP leader said it sounds good as the Prime Minister admitted that the enforced disappearance is taking place in Bangladesh.  
He said the government has so far not taken any initiative to prevent the incidents of enforced disappearance.
Speaking at another programme, BNP senior joint secretary general Ruhul Kabir Rizvi said the Prime Minister formally recognised that the incidents of enforced disappearance have been happening in Bangladesh like other countries.
'She (PM) acknowledged that there may be enforced disappearance as other countries has. So, the Prime Minister has taken the responsibility for such incidents,' he told a human chain programme.
Shikhkhak Karmachari Oikya Jote arranged the programme in front of the Jatiya Press Club, demanding the release of its president Prof Selim Bhuiyan's from jail.
Rizvi said the government is making its opponents, teachers, public representatives, doctors, engineers, journalists and businessmen disappeared in its political interest.
Referring to Prime minister's comment that many people are returning after remaining missing for some days, he said, 'She (Hasina) also has admitted they keep people confined for some days and release them after making their gains.'
About enforced disappearance of BNP leader M Ilias Alai and Chowdhury Alam, he said they are yet to be released as they did not compromise with the government. 'Some people remain missing forever as per her (PM's) wish while some others are released after some days, also as per he will.'