Biswa Ijtema to end with concluding prayer today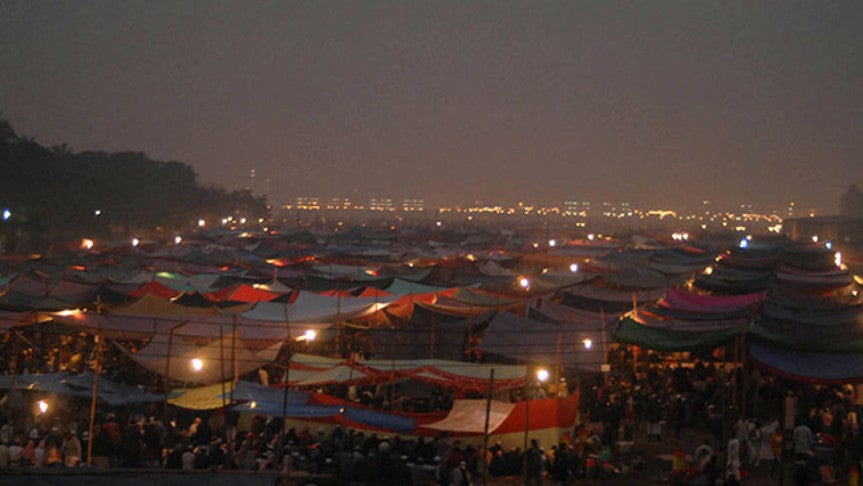 Gazipur: The first phase of the three-day 53rd Biswa Ijtema, the second largest Muslim congregation after the Hajj, will end with Akheri Munajat (concluding prayer) on Sunday on the banks of Turag River at Tongi in Gazipur.
Senior most Imam (Pesh Imam) of Kakrail Jame Mosque Mawlana Md Jubaer will conduct the concluding prayer seeking peace, happiness and wellbeing of the Muslim Ummah anytime between 11:15am to 11:30am, said one of the organizers.
'Around 20 to 25 lakh people from all walks of life, including cabinet members, lawmakers, professionals and political leaders, are expected to join the Akheri Munajat before the Zohr prayers tomorrow,' said Gazipur City Corporation Mayor Professor MA Mannan.
Earlier, the Ijtema formally began with 'ambayan' (general sermon) after Fazr prayers at dawn on Friday amid tight security.
Noted ulema-mashaekhs in their sermons called for following the guidance of the holy Quran and Sunnah. The sermons were translated into different languages of the world.
From beginning of the three-day Ijtema, two devotees identified as Kazi Azizul Haque, around 60 years old, and Abdul Mamun, in his thirties, died till filing the report, said Tongi Model police officer-in-Charge.
One of them died of asthma and another in a road accident, he said, adding that the bodies were sent to the deceased villages.
However, the second phase of the Ijtema is scheduled to begin on January 19 at the same venue and it will end on January 21.
Tablig Jamaat has been organizing the Biswa Ijtema on the bank of Turag River since 1967. Now Ijtema is being held in two phases since 2011 to ease the accommodation problem, an organizer said.
Meanwhile, the policemen on Saturday arrested two fraud and extortionist during extorting from the devotees at a boat in the Turag River.
The arrestees are Mohammad Naeem, in his early thirties, and Mohammad Jubaer, around 24 years old, residents of Nayanagar in Tongi, said Dhaka Metropolitan Police (DMP) Uttara Zone Assistant Commissioner (AC) Tapas Kumar Das.
Both of them were produced before Dhaka Chief Metropolitan Magistrate Court after interrogation, Turag police Officer-in-Charge said, adding that a case was filed with Turag Thana under Speedy Trail Act in this regard.