Work efficiently to tap sea resources: PM asks navy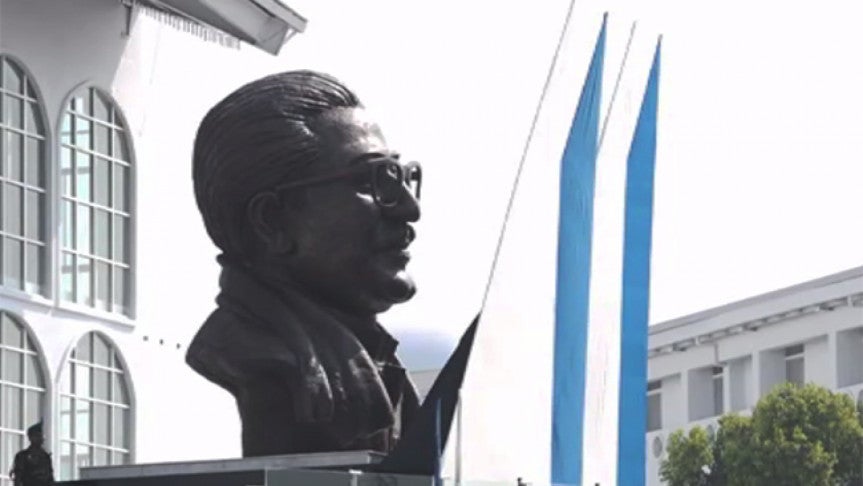 Chittagong: Prime Minister Sheikh Hasina on Wednesday urged the Bangladesh Navy personnel to discharge their duties with utmost sincerity being imbued with the patriotism to tap abound resources from vast sea areas of the country.
Bangladesh has possessed a vast sea area blessed with plenty of natural resources through peacefully negotiation with the neighbours. So Bangladesh Navy has to play due role to exploit the resources and protect the sovereignty of the maritime areas, she said.
Bangladesh Navy has to work to implement various programmes of 'blue economy, she said, hoping that Navy personnel will discharge their duties more effectively and successfully being inspired with the spirit of the liberation war.
The prime minister was addressing a function at BNS Issa Khan Parade Ground on the occasion of awarding National Standard to BN Dockyard and inauguration of Bangabandhu Complex at Bangladesh Naval Academy here today.
The Premier said BN Dockyard has been awarded the National Standard for its unique services to develop and modernize of the Bangladesh Navy.
'It's a glorious chapter in the history of Bangladesh Navy,' she said, giving thanks to all concerned for the success of the dockyard.
On her arrival at BN Dockyard, Chief of Naval Staff Admiral Mohammad Nizamuddin Ahmed and Commodore Superintendent of the Dockyard Commodore Moinul Haque received her.
The prime minister was given state salute as national anthem was played at that time. An attractive parade of different units of Bangladesh Navy was also arranged on the occasion. The premier inspected the parade and took salute.
Sheikh Hasina handed over the National Flag to the Commanding Officer of the BN Dockyard Imtiyaz Uddin.
The premier said BN Dockyard is the main driving force of operational activities of Bangladesh Navy and protection of the sovereignty of large maritime areas of the country.
'The dockyard is performing its duties with utmost patriotism and professional competence for proper maintenance and modernization of the three-dimensional and hi-tech warships and submarines,' she said.
The prime minister said BN Dockyard has achieved self-reliance in proper maintenance of the warships according to the international standard (ISO 9000). Floating dock of the dockyard BNFD Sundarban and BN Slipway have already completed docking and maintenance of more than one thousand local and foreign ships, she said.
The premier said with their own manpower, technology and technical capacity, the BN Dockyard is keeping the warships operational for longer period through proper maintenance, saving large amount of foreign currency.