Khagrachari strike underway peacefully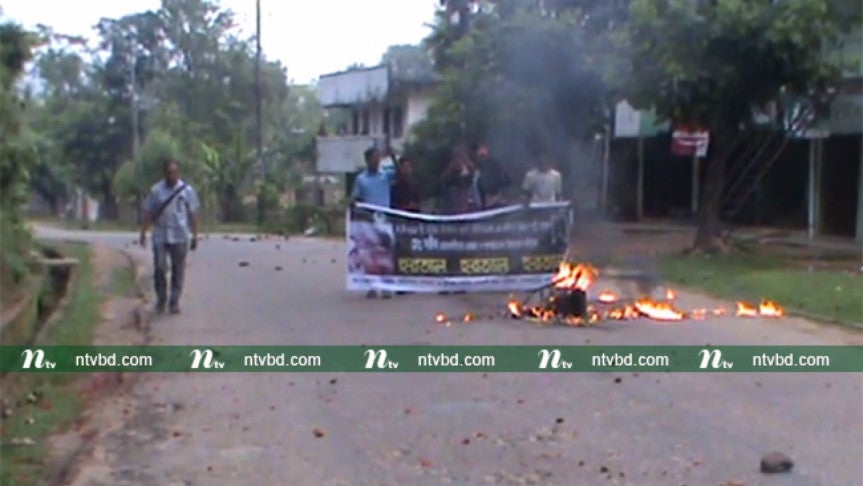 Khagrachhari: The first day of 3-day strike enforced by Greater Parbatya Chhatra Council and Parbatya Odhikar Forum is underway peacefully in Khagrachhari.
The organisations of Bangali settlers on Saturday called the dawn-to-dusk strike from Sunday to Tuesday protesting the killing of microbus driver Sajib Hawladar during the Friday's gun attack that left five people dead.
They also demanded the release of three people who were allegedly abducted from Khagrachhari on April 16.
Witnesses said transport operation remained suspended since the morning while addition police were deployed at important points of the districts.
The picketers were seen burning tires at the main road of Sadar Upazila and Khagrachhari gate area sporadically.
Meanwhile, the two organisations also called two-day strike at Rangamati and Bandarban on Monday and Tuesday protesting the attack.
On May 4, five people were killed and eight others injured in a gun attack on a motorcade of the followers of slain Naniarchar upazila council chairman Shaktiman Chakma at Betchhari in the upazila.
They came under the attack while going to attend the funeral programme of the slain upazila council chairman at his Kukurmara family crematory in the upazila from Khagrachhari.
Advocate Shaktiman Chakma, 55, also a leader of Parbatya Chattagram Jana Sanghati Samity (MN Larma faction), was shot dead by unidentified miscreants in front of the upazila council complex on May 3.
After the attack, persistent patrolling by Army and police were underway at important points of the district while additional forces were deployed around the Sadar Upazilas of Rangamati and Khagrachhari.