President pays homage to Bangabandhu at Tungipara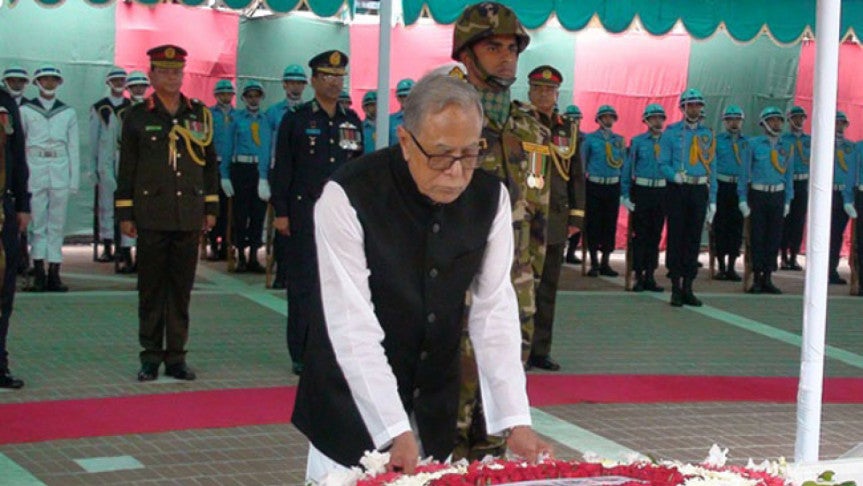 President Abdul Hamid paid rich tributes to Father of the Nation Bangabandhu Sheikh Mujibur Rahman at his mausoleum at Tungipara of Gopalganj on Monday.
The head of the state placed a wreath at the grave of the great leader around 1:46pm as he began his 2nd consecutive term as the country's President, said his Press Secretary Joynal Abedin, reports the UNB.
After placing the wreath, he stood in solemn silence for some time as a mark of profound respect to the memory of the Father of the Nation.
The President also offered fateha and signed the visitor's book.
A smartly turned out contingent drawn from Bangladesh Army, Navy and Air Force gave a guard of honour on the occasion.
Chief of Army Staff Gen Abu Belal Muhammad Shafiul Huq, Chief of Naval Staff Admiral Mohammad Nizamuddin Ahmed, Chief of Air Staff Air Chief Marshal Abu Esrar, Sheikh Helal Uddin, MP, Rezwan Ahmed Toufiq, MP, and secretaries concerned to the President were present on the occasion.
President Hamid made a unique record in the history of Bangladesh by taking oath as the head of the state for the second consecutive term on April 24. He is the first politician in Bangladesh to get re-elected as President on completion of the first term. 
Soon after the taking oath of office, Hamid paid respects to Father of the Nation Bangabandhu Sheikh Mujibur Rahman by placing wreaths at his portrait at Bangabandhu Memorial Museum in Dhanmondi on April 25.
He also paid rich tributes to the martyrs of the Liberation War of Bangladesh at the National Mausoleum in Savar on the day by placing wreaths at the monument.