Eradicate drugs through non-political drive: BNP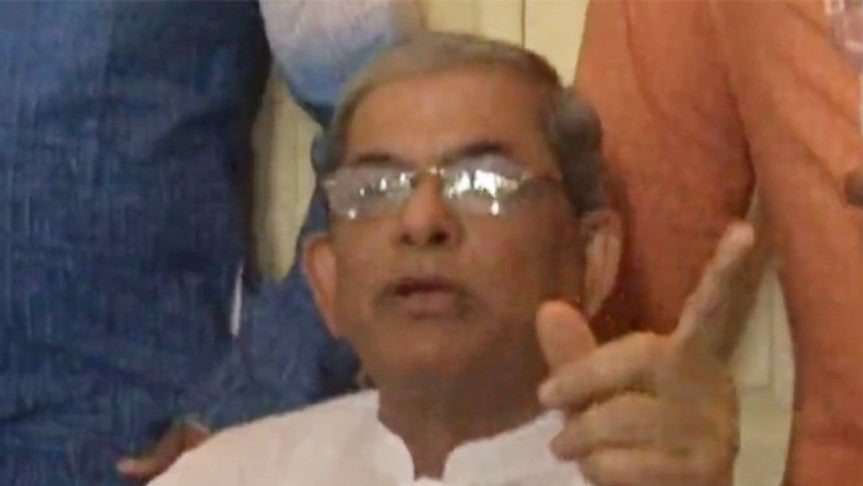 Thakurgaon: BNP secretary general Mirza Fakhrul Islam Alamgir on Wednesday said the eradication of drug abuse is possible with a 'nonpolitical' drive and enforcement of law, not with 'crossfire'.
'Killing people in crossfires in the name of anti-narcotics drive can't take place in a civilised country,' he said, reports the UNB.
The BNP leader came up with the remarks while talking to reporters at his residence here in the morning.
He said their party also wants the country to get rid of narcotics. 'But it'll have to do through a nonpolitical drive and legal means. The offenders must be put on trial instead of killing in crossfire.'
Fakhrul said law enforcers killed Chhatra Dal activist Amjad Hossain in crossfire in Netrakona suspecting him a drug peddler, though he was a very good boy.
The BNP leader alleged that the government is carrying out the drive ahead of the national election to create panic among people.
He also feared whether the drive is finally used to eliminate the opposition as their many leaders and activists are facing political cases across the country. 'We've been observing over the last nine years that the government is using law enforcers only to suppress and eliminate the opposition.'
About the Gazipur polls, Fakhrul said their party's many leaders and activists were arrested ahead of the June 26 election.  
He renewed their party's demand for withdrawal of Gazipur SP Harun-ar-Rashid for the sake of a credible election. 'A fair and credible election is not possible in Gazipur in his (Harun's) presence.'
The BNP leader said their party is joining the local body elections only to expose how the government has destroyed the lection process.
He said the journalists are now passing through the most critical time in the country as they cannot write true stories due to the government's pressure.
Fakhrul said they have got information that some journalists were sacked for speaking the truth during the Khulna city polls.
Under the circumstances, he urged all to get united to restore democracy and establish a pro-people government by forcing the government to hold the next election under a non-party neutral administration.