Sholakia ready for country's largest Eid congregation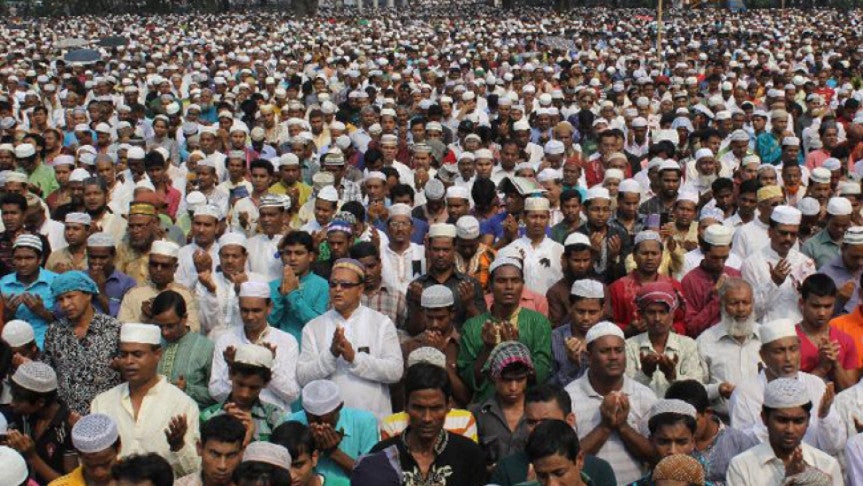 Kishoreganj: Keeping security issue as a top priority, all necessary preparations have been completed for holding the country's largest Eid congregation at Sholakia Eidgah Maidan.
This will be the 191st jamaat where Maulana Farid Uddin Masud, chairman of Islahul Muslimin Parishad, is expected to lead the congregation at 10 am, reports the UNB.
Members of law enforcement agencies will remain stationed at various temporary checkposts to monitor the largest Eid gathering as every year, throwing a security blanket in the area.
For the first time this year, three drone cameras will be there in vigilance in the area, said Mashrukur Rahman Khaled, superintendent of Kishoreganj Police.
Several metal detectors at different entrances and closed-circuit cameras inside and outside the canopy of the congregation were set up to keep watchful eyes to avoid any unwanted incident, he said.
Besides, plainclothes police will be on duty apart from detective personnel to evade any subversive activity, the SP added.
Two special trains will operate on Bhairab-Kishoreganj and Kishoreganj-Mymensingh routes to facilitate the movement of Sholakia-bound Muslim devotees.
Saying that Sholakia Eidgah is all ready for safe gathering, president of Sholakia Eidgah Managing Committee and deputy commissioner of the district Md Sarwar Murshed Chowdhury urged all, including the President and cabinet ministers to join the congregation on the Eid day.
Mannan Dad Khan, former Dewan of Haibatnagar in Kishoreganj, donated 4.35 acres of land through Wakf deeds in 1950 and now the Eidgah has seven acres of land. This Eidgah is situated on the northern bank of the Norsunda River.
Earlier, on the Eid day on July 7, 2016, at least four people, including two policemen, were killed and 12 others injured in a bomb attack coupled with an exchange of gunfire after terrorists attacked at a temporary police checkpost near Sholakia Eidgah in Sadar upazila of Kishoreganj.