Flood water enters Moulvibazar town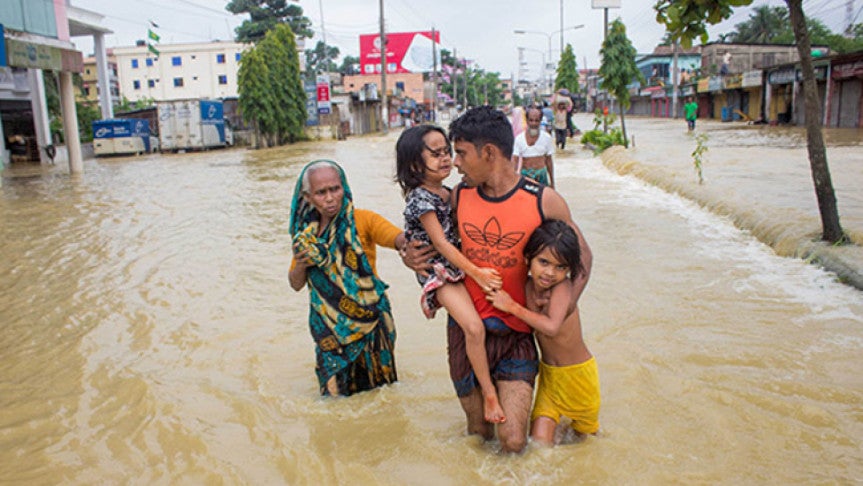 Moulvibazar: Many areas of the district town and nearby villages went under water on Sunday due to a breach in the town protection dam along the Manu River.
Water started to enter the town from 12:30 am when a 30-foot portion of the dam broke down due to heavy pressure of water.
The sudden push of water engulfed many areas of the town and at least 50 nearby villages.
Moulvibazar municipality, Baroikona, East and West Borohat, Borokapon, Dharkapon, Shekhergaon, Darok, Khidur, Gobindasree, Shahbandar, Sreerampur, Ghorua and Mostafapur were among the affected areas, reports the UNB.
Business establishments and educational institutions in the affected areas were shut down while people were seen wading through waist-deep water.
Army, Water Development Board, municipality and the local administration were working to fix the dam.
District Food Officer Manoj Kanti Chowdhury feared that water may enter four food silos if it continues to rise. 'There're 1,568 tonnes of rice and 424 tonnes of wheat in the four warehouses. Food grains might be damaged if silos were submerged,' he said.
Meanwhile, water started to recede from many areas in Kulaura, Kamalganj, Rajnagar and Sreemangal upazilas as the water the level of the Manu river decreased further.
The river was flowing 154 cm above the danger level at Chadnighat in the town on Sunday, shedding 5 cm from Saturday.
However, the affected people were suffering for lack of safe drinking water, food and shelter.
In the four upazilas, some 3.16 lakh people still remained marooned.
Meanwhile, four people died as they were washed away by flood water in the district in the last four days.
Meanwhile, flash flood caused by incessant rain inflicted untold sufferings of on people in flood-affected areas of Sylhet district.
The embankment along the Kushira River broke down at nine points inundating most of the villages in Balaganj upazila.
The water started to enter land on Sunday after the embankment of Radhakona village broke down, locals said.