Nothing to be worried about nuke plant security: PM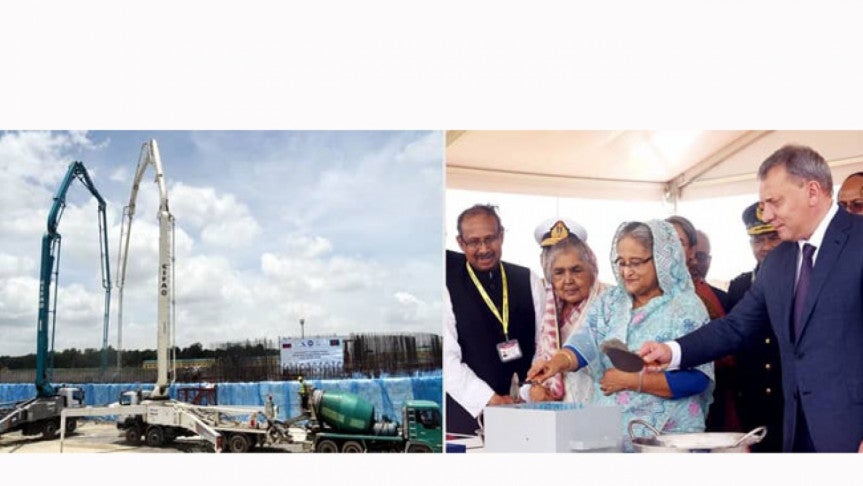 Rooppur, Pabna: Taking a swipe at those creating unnecessary tension about the Rooppur Nuclear Power Plant, Prime Minister Sheikh Hasina on Saturday said there is nothing to be worried about it as modern technology is being used to ensure its safety.
'Atomic energy regulatory bodies of Russia and India are providing training to our people and scientists, and this will continue….there's nothing to be afraid of,' she said, reports the UNB.
The Prime Minister said this at a programme marking the First Concrete Pouring into the Second Unit of Rooppur Nuclear Power Plant here.
She said a vested quarter is there which creates fear and tension when the government goes for doing anything. 
'Let me ensure you about the nuclear power plant, there's nothing to be worry.'
The Prime Minister mentioned that the government has given utmost importance to security of the nuclear power plant.
She said there will be a separate security unit taking support from army, police and other law enforcing agencies. 'We're ensuring the security through well-thought out plans so that there could be no problem.'
Sheikh Hasina mentioned that the government is strictly following IAEA safety standards and other relevant guidelines as well as international good practices in building the Rooppur Power Plant.
'The plant is being made with G3+Russian reactor which contains the latest technologies for safety measures and radiation control system. Highest measures are being taken to avoid any sort of risk for the people,' she said.
Sheikh Hasina also said Russia will take the responsibility for the nuclear wastage management. 'Nobody needs to be anxious about it.'
She said construction of Rooppur Nuclear Power Plant is a long-cherished dream of Bangladesh that was sown in 1961 in the then Pakistan era. At that time several physical works, including land acquisition, were completed.
'But the Pakistan government abruptly stopped the work and shifted the plant to West Pakistan showing a step-motherly attitude to the East,' she said.
After the independence, Father of the Nation Bangabandhu Sheikh Mujibur Rahman undertook an initiative to construct the Rooppur nuclear plant, she recalled adding that Bangabandhu ordered to establish contact with the nuclear power plant construction firms.
As per his directive, Hasina said, the work started but with his brutal assassination on 15th August 1975, the entire process was abandoned.
'No government took initiative until 1996 when Awami League government revived the project for its implementation. We included the nuclear power generation programme in our energy policy of 1996,' she said.
Sheikh Hasina mentioned that International Atomic Energy Commission (IAEA) overlooks the issues relating to nuclear energy.
'We've sought its cooperation for commissioning of the Rooppur Nuclear Power Plant. A time-bound plan has also been worked out with the help of IAEA. But before completion of the entire process, our 1996-2001 tenure ended,' she said.
After coming to power in 2001, the Prime Minister said, the BNP-Jamaat government stopped implementation of many people-centric programmes, including the Rooppur Power Plant project.
'Rooppur Nuclear Power Plant was a dream project of Bangabandhu. After assuming office in 2009 again, we've taken up the project again and Russian Federation has come forward to help implement the project. I convey my gratitude to the Russian government and its people for extending the support,' the PM said.
She hoped that the nuke plant will play an important role in Bangladesh's journey towards a middle-income country.
Chaired by Science and Technology Minister Architect Yafes Osman, the programme was addressed, among others, by Deputy Prime Minister of Russian Federation Yury Ivanovich Borisov.