Torture on Narail domestic help: Locals demand exemplary punishment of culprits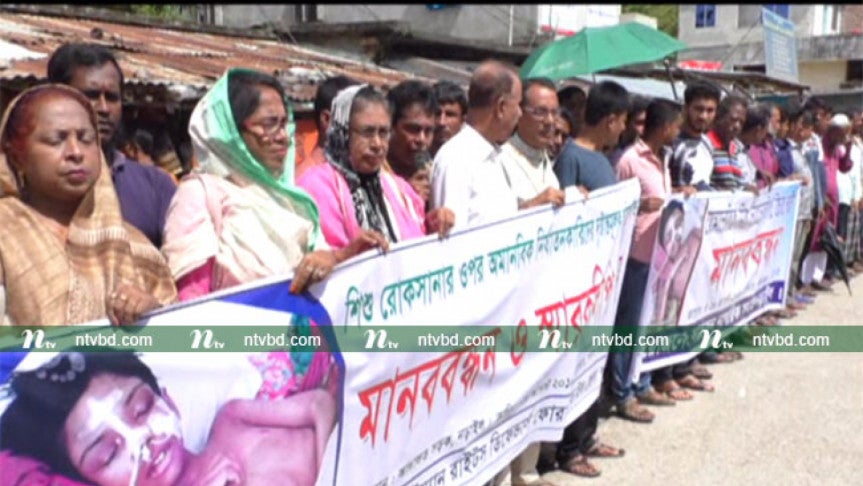 Narail: People from all walks of life on Sunday formed a human chain in front of the district court premises in the town demanding exemplary punishment of the house masters who tortured their 10-year maid in the capital.
District Mahila Sangstha President Salma Rahman Kabita, Narail Press Club President Alamgir Siddiqui, DSA Matin, District Council member Raushar Arba Kabir, women leader Anjuman Ara and Kazi Hafizur Rahman were also present at the human chain, reports the UNB.
After the protest, they submitted a memorandum to the deputy commissioner in this connection.
Ruksana, ten-year-old girl is now fighting for life at the district's Sadar Hospital after being reportedly abused massively during her employment earlier as a domestic help in Dhaka.
The bed-ridden girl, Roksana, is being provided food, oxygen and other amenities through artificial means as her body is not being able to sustain treatment naturally, said the doctors.
Her relatives alleged that her eight-month stint as a domestic help in Dhaka was filled by medieval abuses by her employers.
Roksana was recruited through Saleha Begum, an acquaintance of her family, who took her to work at the house of Asadullah and his wife Sonia in Dhaka's Tipu Sultan Road of Wari area.
The child labourer Roksana was subjected to various types of abuse including sexual without any provocation or reason.
When her physical condition deteriorated on August 17, she was admitted to Dhaka's United Hospital, after which she was handed over to her family who later took her to Narail Sadar Hospital two days later.
Resident medical officer of the Sadar Hospital Dr Mashiur Rahman Babu said Roksana's body bears all the evidence of abuse and she is still not out of danger level.
Meanwhile, Roksana's father Rasel Sheikh has filed a case on August 22 with Lohagara Police Station accusing Asadullah, his wife Sonia and his brother-in-law Ibrahim for abusing his daughter.
Officer-in-charge of Lohagara Police Station Prabir Biswas said an investigation slip has been dispatched to Dhaka's Wari Police Station and others to trace the accused who have been reported to be absconding.
Narail Police Superintendent Jasim Uddin (PPM) said the accused will not be spared and action will be taken against them accordingly.