Jinnat Ali from Bangladesh probably tallest living person on earth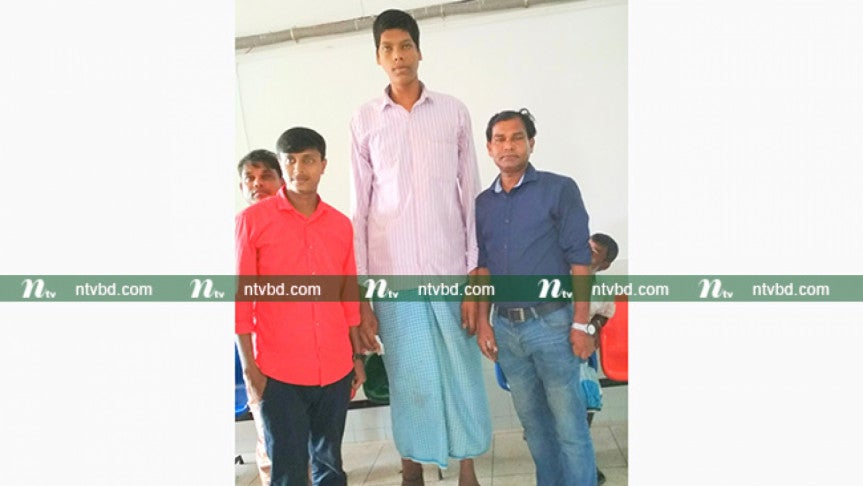 Cox's Bazar: A 22 years old Jinnat Ali from Ramu, Cox's Bazar, Bangladesh is probably the tallest living human in the world.
According to Guinness World Records, currently Turkish Sultan Kosen is the tallest living person with height of 8'2.8'' but Jinnat Ali's height is 8'5''.
Sultan Cousine was born in 1982 in Turkey. And his height is 8 feet 2.8 inches. He is the tallest living person in the world today. In September 2009, Guinness World Records recognized him as the world's tallest person.
Like him, another long man found the remote area of ​​Bangladesh, in Barabili village of Gorjania union under Ramu upazila of Cox's Bazar district.
Not only physically but there are variations on his feet. His right leg is two inches bigger than the left foot.
His mother Shahampura Begum said that Jinnat Ali needs more food than the normal man and his physical condition is not also good. As we are not well off, it is not possible to continue his costly treatment.
Jinnat Ali's father Amir Hamza said that the local doctors advised us to take him to Dhaka for better treatment.
'According to the doctors' advice we had taken him to Dhaka Medical College Hospital. But due to lack of money we could not complete the treatment and came back to home. But now-a-days his physical condition is deteriorating day by day,' his father said.
Jinnat Ali's family is hoping that the government will take initiatives to ensure his good treatment.