Dr Kamal joined hands with killers, says Sheikh Hasina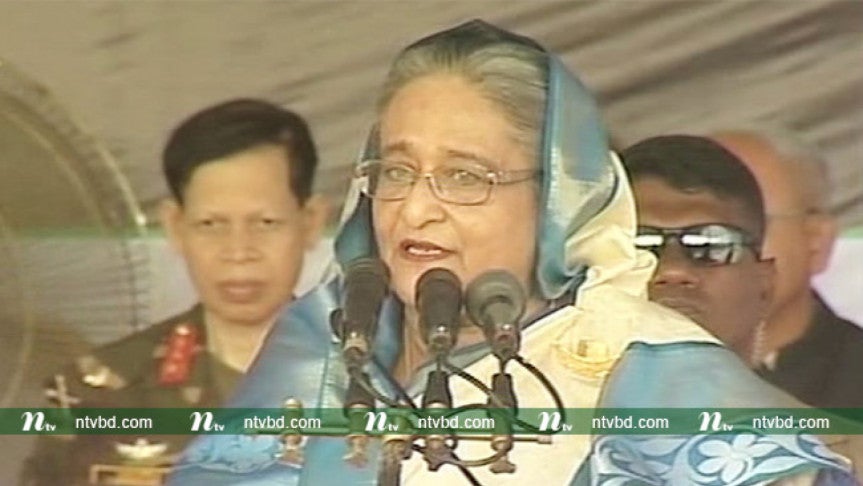 Madaripur: Taking a swipe at Dr Kamal Hossain, Prime Minister Sheikh Hasina on Sunday said the Gono Forum chief has joined hands with killers.
'He (Dr Kamal) has joined hands with them (killers), why not! Dr Kamal, Khaleda Zia and Tarique Zia had whitened black money,' she said.
The Prime Minister said this while addressing a public rally organised by local Awami League at Shibchar, reports the UNB.
Talking about the recently launched unity of BNP, Dr Kamal Hossain, ASM Rob and Mahmudur Rahman Manna, she questioned, 'What they can do and what they want to do!'
Sheikh Hasina, also the ruling Awami League chief, Dr Kamal Hossain forged the unity with those who are killers, corrupt, plunderers of orphans' money. 'With him some other small fry have gathered there-they all formed the unity.'
She said Dr Kamal always talks about principles and dignity, and is always vocal against corruption, terrorism and militancy. 'But, BNP and Jamaat are involved in terrorism... now he has forged a unity with them.'
Questioning the leadership of the newly formed unity, Hasina said BNP acting chairperson Tarique Rahman is a convicted criminal living abroad as he is convicted in money laundering, 10-truck arms smuggling and August-21 grenade attack cases.
'Dr Kamal Hossain and his gang have forged the unity under that chairperson.'
She said the people of the country do not want the killers and they demonstrated this desire in the 2008 and 2014 elections, voting Awami League to power.
The AL chief said the development of Bangladesh is never visible to Dr Kamal Hossain and his gang but the world acclaimed Bangladesh as a role model of development. 'To them, development means corruption, terrorism and money laundering.'
The Prime Minister said Khaleda and Tarique were involved in the August-21 grenade attack. 'They tried to kill me through the grenade attack to make Awami League leaderless.'
Hasina mentioned that they destroyed the all clues and evidence of the gruesome attack and staged the 'Goj Mia drama'. 'This [Zia] family is a killer family. Zia was also involved in the August 15, 1975 carnage with Moshtaque Ahmed.'
Seeking votes in favour of 'Boat', the election symbol of Awami League, in the next general election, Hasina urged all to help continue the development spree.
Chaired by Shibchar Awami League president Md Shamsuddin Khan, the rally was addressed, among others, by party leaders Sajeda Chowdhury, Amir Hossain Amu, Tofail Ahmed, Matia Chowdhury, Obaidul Quader, Faruk Khan, Dr Dipu Moni, Noor-e-Alam Chowdhury and Saifuzzaman Shikhor.