All eyes on Ganobhaban as much-hyped dialogue to be held today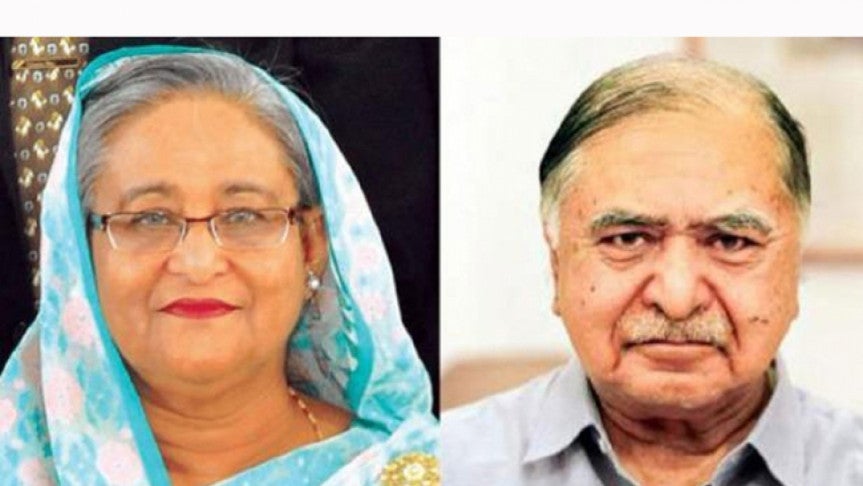 Dhaka: All eyes are now on Ganobhaban as the country's two major ruling and opposition alliances are set to sit in the much-sought dialogue on Thursday evening in a bid to reach a consensus over holding the next general election in a fair and credible manner with the participation of all parties. 
People across the country are waiting to see whether the high-profile dialogue between the Awami League-led 14-praty alliance and Dr Kamal Hossain-led Jatiya Oikyafront, including BNP, may produce any 'magical outcome' for holding a peaceful and credible election, reports the UNB.
Awami League President and Prime Minister Sheikh Hasina will lead a 23-member 14-party delegation while Gono Forum President Dr Kamal Hossain 16-member Jatiya Oikyafront team in the discussion to be held at 7pm followed by dinner.
Through the talks with the Oikyafront, the Prime Minister is going to open her door of discussions over the 11th parliamentary polls before the announcement of its schedule as Bikolpo Dhara Bangladesh, Jatiya Party and some other parties and alliances are interested in dialogue with the Prime Minister.
Political analysts think the dialogue will not only determine the mode of the next general election, but also the country's future politics. They also think the success of the talks depends on sincerity and liberal stance of both the ruling and opposition sides on their current positions.
Meanwhile, Awami League announced the names of the 14-party's 23 delegation members in a press release signed by party office secretary Abdus Sobhan Golap.
Of them, 19 leaders, including the Prime Minister, are from Awami League while four others from its alliance partners.
The other AL leaders are Obaidul Quader, Amir Hossain Amu, Tofail Ahmed, Matia Chowdhury, Fazlul Karim Selim, Mohammad Nasim, Abdur Razzak, Kazi Zafar Ullah, Abdul Matin Khosru, Ramesh Chandra Sen, Advocate Anisul Huq, Mahbubul Alam Hanif, Dr Dipu Moni, Jahangir Kabir Nanonk, Abdur Rahman, Abdus Sobhan Golap, Dr Hasan Mahmud and SM Rezaul Karim. 
The four 14-party leaders are Samyabadi Dal leader Dilip Barua, leader of Workers Party of Bangladesh Rashed Khan Menon, Jatiya Samajtantrik Dal leader (JSD) Hasanul Huq Inu and JSD-faction leader Moinuddin Khan Badal.
On Tuesday night, Jatiya Oikyafront sent the names of its 16-member delegation, led by Dr Kamal Hossain, to Awami League for the talks.  
The other Oikyafront delegation members are BNP secretary general Mirza Fakhrul Islam Alamgir, standing committee members Khandaker Mosharraf Hossain, Moudud Ahmed, Jamiruddin Sircar, Mirza Abbas, JSD president ASM Abdur Rob, vice president Tania Rob, general secretary Abdul Malek Ratan, Nagorik Oikya's Mahmudur Rahman Manna and SM Akarm,  Gono Forum general secretary Mostafa Mohsin Montu, executive president Subrata Chowdhury, Jatiya Oiky Prokriya's Sultan Mohammad Mansur, ABM Mostafa Amin and Gonoshasthya Kendra founder Dr Zafrull Chowdhury. 
Road Transport and Bridges Minister Obaidul Quader said the Prime Minister is sincere about the dialogue.
Talking to reporters at the secretariat, he also said anything can be discussed at the dialogue. 'The Prime Minister has no precondition... talks can be held on any issue.'
However, BNP secretary general Mirza Fakhrul Islam Alamgir is doubtful about the success of the talks keeping their chairperson Khaleda Zia in jail.
'The government on one hand has offered dialogue and extended Khaleda Zia's punishment on the other. These are two conflicting moves, which don't demonstrate the government's sincerity for talks,' Fakhrul said at a programme on Wednesday.
The BNP leader said the government must fully accept Oikyafront's seven-point demand for holding a credible and neutral election. 'First of all, our leader (Khaleda) must be freed as no election can be meaningful without her release.'
Nagorik Oikya convener Mahmudur Rahman Manna said they will join the talks with an open mind to make it a success.
He, however, said some issues, including Khaleda Zia's release and election time-government, will be the challenging ones, to have suitable solutions. 'We hope the government will come up with a positive attitude to resolve the political problems.'
An Oikyafront leader wishing anonymity said Dr Kamal Hossain will mainly speak at the dialogue during the talks while Mirza Fakhrul and Moudud Ahmed will assist him.
He said they have already done some ground works as to how they will defend their demands and argue with the ruling party over different issues.
The Oikyafront leader also said they may make some sacrifices if the ruling party also shows its liberal attitude. 
A BNP standing committee member said they want the talks to be fruitful for restoring peace, stability and the continuation of democratic trend in the country.
He, however, warned that if the dialogue fails to produce positive outcome, they will have no option but to go for a strong movement to force the government to concede to their demands.
The BNP leader also hinted that their party many announce tougher programmes from Oikyafront's rally in the city on Friday if the talks fail.
In favour of Jatiya Oikyafront, Dr Kamal Hossain on Sunday sent a letter to Prime Minister Sheikh Hasina seeking dialogue over the national election.
In response to it, Sheikh Hasina sent a letter to Dr Kamal on Tuesday morning and invited Oikyafront leaders to join the dialogue.
 On October 13, BNP together with Dr Kamal Hossain-led Jatiya Oikya Prokriya, JSD and Nagorik Oikya launched the Jatiy Oikyafront to press for their seven-point demand.
The Oikyafront's seven-point demand includes installation of a neutral interim government, dissolution of parliament, reconstitution the Election Commission, release of all the political prisoners, deployment of army and cancellation of the move to use Electronic Voting Machines (EVMS) for holding the next polls in fair and acceptable manner.