President asks students to work with devotion for country's welfare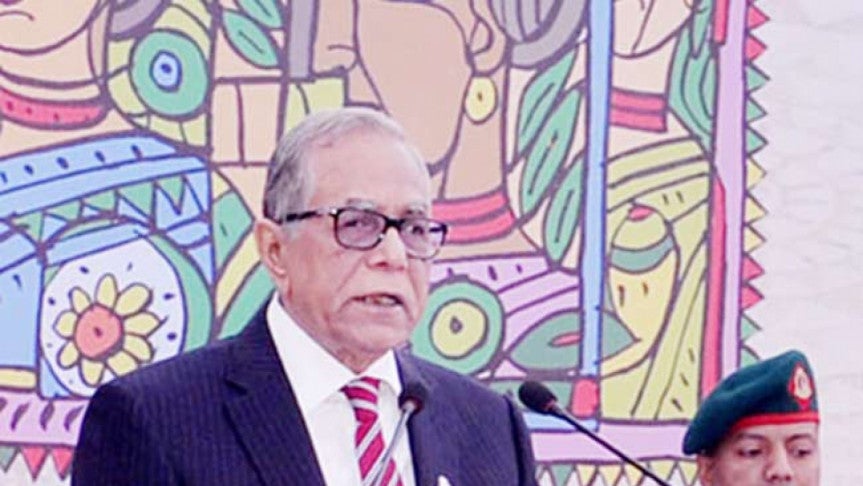 Tangail: Terming students as future of the country, President Abdul Hamid on Wednesday asked them to work with devotion and honesty for the welfare of the country.
bnYou are the future of the country. You will be the architect to build Bangladesh in the days to come. So, you must have devotion, you must work sincerely for the welfare of the country,' the President said while addressing a programme marking the centenary of Dhanbari Nawab Institution.
He said the main motto of students should be to serve the country as well as the nation.
'You have to remain alert so that any type of greed or evil interest can't pollute your soft mind and the teachers must give proper attention to this,' he added.
The 21st century is more competitive and challenging than other times in the past, the President said adding, 'We have to go forward facing these challenges'.
Mentioning that the resources of the country are limited, Abdul Hamid said concerted efforts will have to be made to expedite development process by ensuring the best use of these resources.
Pointing at the teachers, he said educational institutions are the factory to build people as worthy citizens and teachers play the main role there.
'I hope that you would put your best efforts to make the students well-educated and turn them into skilled manpower. We have to keep in mind that we are all accountable to the people of the country. As the schools are run by the money of the people, it is the duty of all to maintain congenial academic atmosphere and image of the educational institutions,' he added.
The President recalled the contribution of Dhanbari Institution to spread education in the region and expressed the hope that the institution would continue to play its role for the development and expansion of education in future.
Former food minister Dr. Abdur Razzak, Administrator of Zila Parishad Fazlur Rahman Khan Faruk and Rafiqul Islam Babul spoke on the occasion, among others.