Bangladesh in the eyes of a fine Swiss lady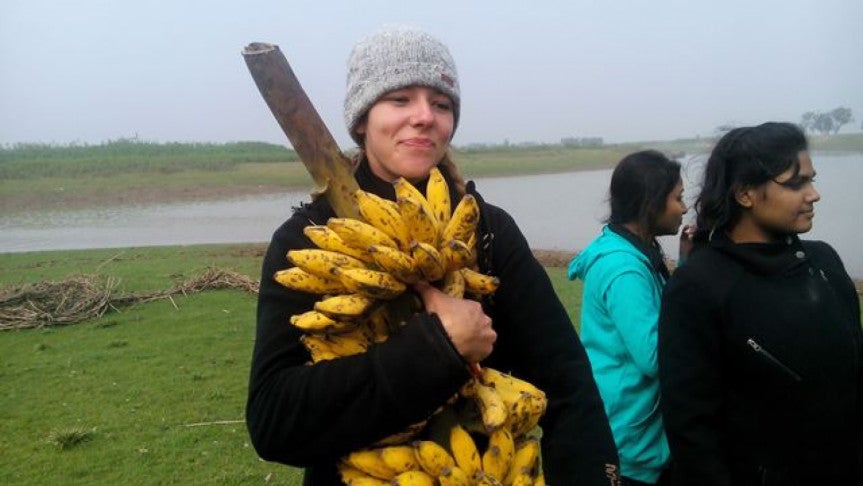 She enjoys the traffic in Bangladesh very much. It's not that she is not sympathetic to those commuters who are suffering in the long tailback of vehicles, rather it's the people of different looks, costumes, and ages that interest her the most. She contemplates on the diversity of lives Dhaka city has. And her interest in the colors of life is symbolized by her liking of the people who apply henna on grey beard. And that's why she did not miss the chance to take a selfie with one such a man with orange beard during her short visit to Bangladesh.
As part of her plan to explore South Asia, Corina Maria Tomasschett, who is in her twenties, came to Bangladesh from Switzerland recently. After arriving on 31 January, she travelled as many tourist attractions in Bangladesh as she could manage within her limited stay here.
Corina found the people in Bangladesh very friendly. Sometimes she faced problems while roaming around Dhaka, but, as she said, there were always plenty of helps offered to her. '.. if I have a problem, I go for Cha (tea) and wait, then people gather around me and watch me. They are just standing there and looking at me and someone of them knows English. There are quite a lot of people who know English,' she went on, 'and then I can talk to them and solve the problem. Everyone is very helpful and nice. I feel very secure in this city. I had no bad experience.'
She, however, came across something strange about Bangladeshi people: they always keep asking about age and marriage and, of course the number of children one has. During her visit wherever she went, people curiously asked her whether she was married or had children. '..married? -no, children? -no, and they feel sad for me,' Corina said describing how people here were surprised knowing that she was still not married even if she is 25.
Corina explained that people in Switzerland have completely different notion about marriage. 'In Switzerland it's too early to marry. My father would be very upset if would get married at the age of 25, very upset,' she said referring to the early marriage trend in Bangladesh.
Here in Bangladesh Corina met her Facebook friend Sakia Haque, who is a student of Dhaka Medical College, during their visit at Tanguar Haor and other parts of Sunamganj district in Bangladesh. The tour was organised by the members of Facebook based group 'Bindaa…s'.
NTV Online invited Corina and her friend Sakia Haque to visit our office after they returned Dhaka.
Corina, along with her Bangladeshi friend Sakia, visited the NTV Online office on 17 February. The online portal is one of the top news portals in Bangladesh. The infotainment portal chief Fakaruddin Ahmed Jewel and its news editor Rafiqul Ranju welcomed them here. During an hour-long conversation, there were exchanges of experiences, interests and ideas.
Among the several questions asked to Corina, one was particularly worth mentioning here. NTV Online assistant news editor Mahbub Alam Rony asked her why she chose Bangladesh as a travel destination. Her answer was: 'I was planning my tour in South Asia. I was looking at India, then I was looking to the right and I saw there was a country on the map. I had to admit that I don't know anything about Bangladesh. If you don't know anything about something, the best is to go into it. So I decided to come.'
'It was quite tough to find travel information', she continued, 'there was a lonely planet book from 2012, and there were some travel bloggers. I found a British girl who has been here two months ago and I contacted her.'
'Then a funny coincidence happened,' Corina now gave an account of how she met her Bangladeshi friend, who accompanied her in most of the tours, 'Sakia and I are both in a Facebook group for solo female travelers, named Travelettes. One day, she (Sakia) posted one of her beautiful pictures of Bangladesh.' Actually it was that picture from Sakia that lured Corina into visiting Beautiful Bangladesh.
Sakia then completed the story: 'I met Corina through the Facebook group. There is no Bangladeshi in the group. Six months ago, I uploaded a photograph of a Chittagong landscape, featuring the hill under clouds in the sky. Many, including Corina, showed interest to visit Bangladesh after viewing the photograph. I thought, they are just saying, but Corina literally came.'
'Corina landed in Bangladesh on 31 January. Though she had planned to come earlier, she couldn't do so due to some family issues,' Sakia added.
Corina and Sakia visited Barisal, Patukhali, Kuakata, Khulna, Bagerhat, Sunamganj, Sonargaon in Narayanganj, Lalbagh Fort in Dhaka, Jahangirnagar University. They visited Cox's Bazar and Saint Martin. Afterwards they visited the Sundarbans, which is a natural region comprising southern Bangladesh and a small part in Eastern India and also the largest single block of tidal halophytic mangrove forest in the world. Sakia being busy with her work, Corina sometimes had to go out alone. She visited National Museum in Shahbagh, Dhaka University campus, Shaheed Minar, and Ahsan Manzil. Asked whether she had visited Dhaka Zoo, the Swiss tourist said she doesn't like animals behind the bars. She believes birds and animals should roam freely. Keeping animals caged is sheer cruelty, she said.
At this point the conversation turned rather gustatory, as foods were already served there. Corina was asked the very common question that every tourist faces in a new land: which of our foods did you like? Although Bangladeshi dishes were too spicy for Corina, she liked Panipuri, a popular street food. And the consequence was pretty predictable: she had to hold the food in one hand and a glass of water in the other to cope with the hot food. 'Corina also liked Biryani and chhola,' Sakia said.
To get familiar with a country it is essential to go deep into its culture, Corina said once during our tête-à-tête. As she had already learnt a lot about Bangladesh's history, from 1952 Language Movement to Liberation War in 1971, from Sakia, Corina grabbed the opportunity to pay tribute to the language heroes at Central Shaheed Minar in Dhaka on 21 February. She even learnt some Bangla words and expressions too. 'Doodh Cha' (tea with milk), 'Rong Cha' (raw tea), 'Kala' (banana), 'Kemon Achhen' (how are you), 'Ami Valo Achhi' (I'm fine) were some of the Bangla phrases she learnt. She took 'Doodh Cha' at the NTV Online office where she was presented with three books published in Amar Ekushey Book Fair.
Responding to questions like what will you highlight about your journey in Bangladesh? Do you have any suggestion? What can the Bangladesh government do for foreign tourists? Corina said, Bangladesh is cheaper and comfortable for travel than other countries. But she found that the signs and directions on the road in the remote areas are not foreigners-friendly.  And there should be a tourist information center with free information about travelling the country. 'I think it if I had gone by my own, it would be quite tough for a foreigner without knowing the language or writing, or even the numbers are different. So it would have been quite tough to go on the local ways. I met some foreigners, other couple, older people, they were going with their private guides. I think going local is for a Bindeshi (foreigner) is quite ... quite hard. But luckily I had many friends to help us out'
At the end, Corina and Sakia said travelling is kind of addictive to them. People are born curious and they, unlike many, kept their curiosity for the world alive.
Our conversation with the Swiss tourist almost came to an end. At last we took some pictures with Corina in front of the NTV Online office building, BSEC Bhaban. The fine Swiss lady did not miss the chance to take selfies with a security guard of the building after getting his permission. She could not resist the temptation to frame herself with a Bangladeshi man who had an orange beard. Her penchant for the spectrum of human lives was unquestionably genuine.