Will Abul take ageing Julekha back?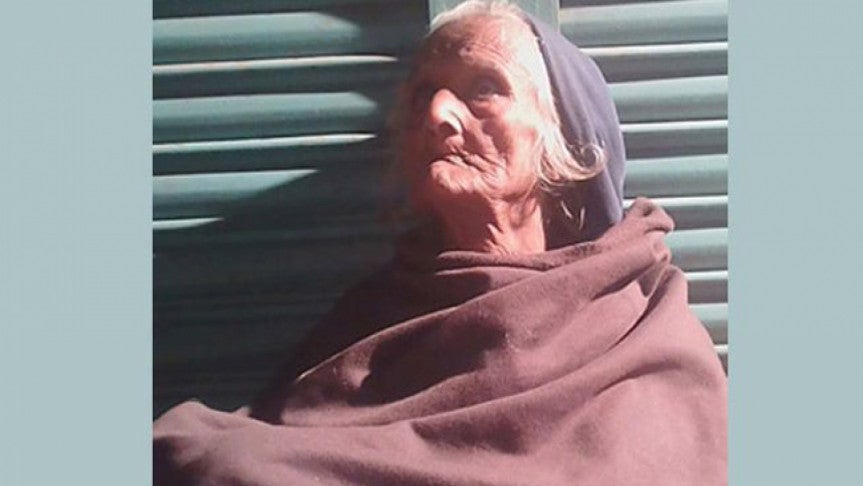 Narayanganj: Julekha Begum claims she is at least 100 years old. In this stage of life bed should be her friend but she was left alone at the railway station which is difficult to believe without seeing in own eyes. In the cold winter her old body shivers and curls up but there is no one to look after her.
In the busy metropolitan city many pass their days on the footpaths, beg from others out of hunger but Julekha Begum is not like them. Her own son and daughter-in-law left her at the railway station, reports the UNB.
For past few days at the platform of Chashara railway station the poor woman was seen screaming and asking one question - 'Will Abul come to take me back?' Who is this Abul ? He is Julekha Begum's son.
A shopkeeper of the station also a witness said on December 6 (Thursday) Julekha's son and daughter-in-law brought her to the station in the morning.
The shopkeeper asked about her identity while Julekha's daughter-in-law said that Julekha, who is her mother-in-law, had been staying with them after death of her six elder brothers-in-law.
And from now on they are unable to look after her, she said and immediately left the place with her husband.
Julekha with her blur eyesight managed to see her son leaving her and started crying while Abul returned once not for taking her back rather to shut her pitiful screams which possibly felt disturbing to him. Abul finally left the spot and never came back.
He who once felt secure under the arm of his mother now took shelter under arms of his wife while Julekha was still hoping for his return. Even she is unable to believe that her son has left her alone in the last stage of life.
Julekha asks only one question all the time 'Will Abul come to take me back?' Maybe she was still unaware that her son had thrown her away just trash meant for the dustbin. She can never believe what her son did to her and still waits for Abul's return.
Locals took her to Khanpur Hospital where primary treatment was provided to her as she was suffering from the wounds she bore on her leg and police was informed.
Later, local social activists found out the address of Julekha's grandson Amjad Hossain at Masdair area in Sadar upazila who was also unwilling to carry her responsibilities.
It was also learnt that Abul, a worker of iron market in Masdair area and his wife left their home for village in Faridpur after leaving her at the railway station.
Reading reports of the incident in the newspaper, Syeda Selina Sheli, Executive Director of 'Apan Nibas', an old home of Uttara in the capital showed interest to take responsibility of Julekha.
Meanwhile locals demonstrated in front of Abul's house in the morning and demanded justice as the incident triggered an outcry on social media.