Don't leave polling stations until vote counting over: Fakhrul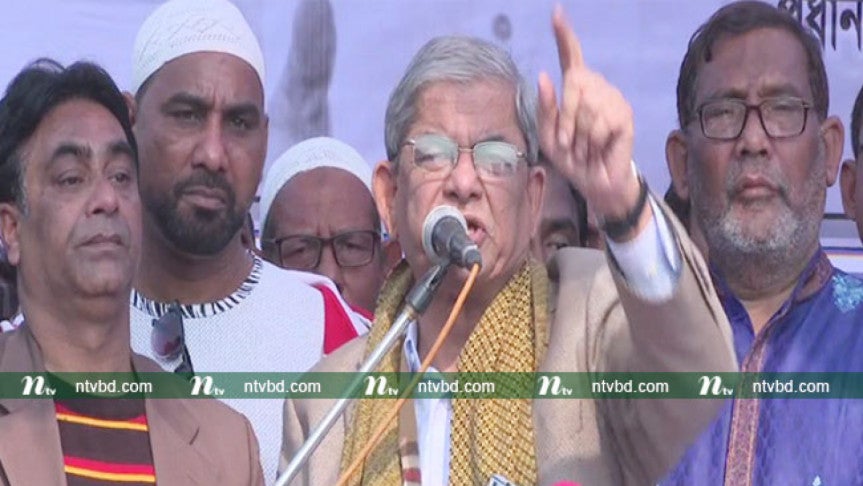 Nilphamari: Accusing Awai League of hatching various plots to win the election without people's vote, BNP secretary general Mirza Fakhrul Islam Alamgir on Saturday urged the voters to guard the polling stations on December 30 until the vote counting ends, reports the UNB.
'They (AL) have got alienated from people. They're making various evil designs as they know they won't be able to win the election with people's votes,' he said.
Speaking at an election rally at Saidpur here, the BNP leader further said, 'Don't leave the voting centers without the end of vote counting. You'll return home wearing the garland of victory.'
He alleged that there is no election atmosphere in the country and enthusiasm among people over the election as the Election Commission has failed to ensure a level-playing field.
'The current Election Commission is worthless and helpless one. It can do nothing except observing everything silently. So, a fair election won't be possible to hold under it,' the BNP leader said.
Fakhrul said the 11th national election is very crucial for the nation as it will determine whether democracy will prevail in the country or not.
He urged the law enforcement agencies to play a neutral role in ensuring a fair and peaceful election. 'You don't belong to any party as you're the servants of the republic. So, it's your duty to ensure an atmosphere where people will be able to go to polling stations and cast their votes in a peaceful manner.'
Fakhrul also sought vote for Nilphamari-4 constituency BNP candidate Amjad Hossain.