No space for arson attackers on Bangladesh soil: Sheikh Hasina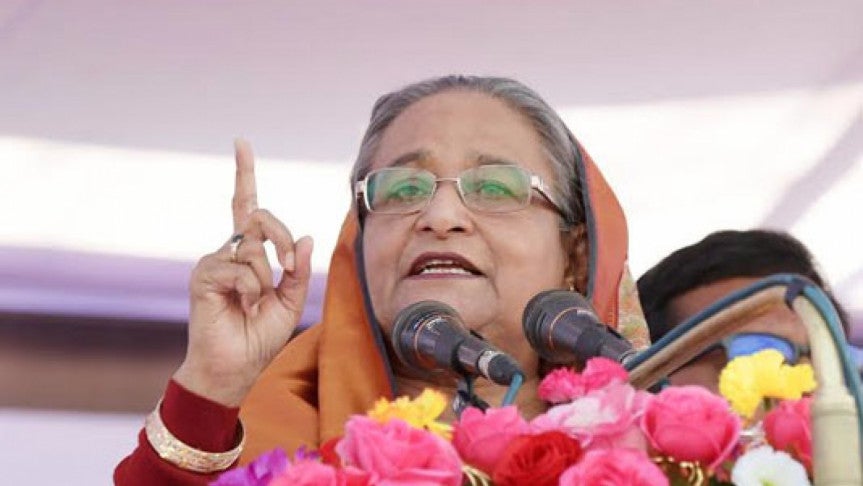 Pirganj, Rangpur: Taking a swipe at BNP for allowing Jamaat candidates to contest the national election with its symbol 'Sheaf of Paddy', Prime Minister Sheikh Hasina said there will be no space for them (BNP-Jamaat) on Bangladesh soil as they were involved in killing people through arson attacks.
'There'll be no space for them on Bangladesh soil as the smell of charred human bodies still comes out from the symbol of Sheaf of Paddy. Please be aware of them!' she said.
Sheikh Hasina said this while addressing an election rally arranged by Awami League Pirganj Upazila unit at Pirganj Govt High School Ground, reports the UNB.
Hasina, also the Awami League president, urged all to vote for Awami League for the sake of development, prosperity, beautiful and a developed life.  She said the next election is very much important and asked people to cast their votes in favour of Boat, the election symbol of Awami League.  'I do believe the wind is now at the sail of Boat...the victory of Boat is sure,' she said.  Recalling the miserable days of 2014 and 2015 when BNP-Jamaat clique was involved in killing people through arson attacks, she said those who killed people through arson attacks are not human being, they are just devil.  Hasina said leader of BNP Khaleda Zia embezzled orphans' money while her son is convicted of money laundering, ten-truck arms smuggling case and August 21 grenade attack case.  'What the development will be done by the convicted fugitive, what type of welfare will they do for the country? The people of the country need to be aware of them,' she said.  The Prime Minister said whenever Awami League comes to power the welfare of people is ensured.  She said the government has taken steps for the employment of huge youths.  'Using the potential of the, we'll advance the country towards prosperity. We'll build poverty- and hunger-free Bangladesh as dreamt by Father of the Nation Bangabandhu Sheikh Mujibur Rahman,' she said.  Introducing the AL candidate for the next general elections from Pirganj Dr Shirin Sharmin Chaudhury, Sheikh Hasina said, 'She's my daughter, I'm handing my daughter to you...you'll cast votes in favour of me, but the name will be Shirin Sharmin.'  Briefly describing various development programmes of the government in the last 10 years, she said the government has numerous plans for the coming days to make the county a developed one.  Local AL candidate (Rangpur-6) Speaker Dr Shirin Sharmin Chaudhury, AL central leaders Jahangir Kabir Nanak, Abdur Rahman, Ahammad Hossain, BM Mozammel, AFM Bahauddin Nasim and Khalid Mahmud Chowdhury, AL Rangpur district unit acting president Momtaz Uddin Ahmed, Jubo League president Omar Faruk Chowdhury and Chhatra League president Redwanul Haque Chowdhury, among others, spoke at the rally presided over by AL Pirganj upazila acting president Azizur Rahman Ranga.  Pirganj Upazila Parishad Chairman Nur Mohammad Mandal, who recently joined AL quitting the post of BNP Pirganj Upazila president, also spoke on the occasion.
Rangpur Rally
Addressing an election rally at Taraganj Government Degree College ground, Sheikh Hasina urged the people of Rangpur region to cast their votes for 'Boat' to complete the unfinished projects taken for the development of the northern region.
'For the overall development of this region, we've taken so many projects... we've taken steps so that every road of this area is developed...we've to complete those works and for that we need your votes for Boat,' she said.
Taraganj Upazila unit of Awami League arranged the rally with its president Atiar Rahman in the chair.
Introducing local AL candidate (Rangpur-2) Abul Kalam Md Ahsanul Haque Chowdhury, she urged all to cast their votes for Awami League to give it another chance to serve them.
'Please, vote for our candidates so that we can work for you,' she said.
Recalling the miserable days when Rangpur was infamous for Manga and famine, the Awami League chief said the situation has changed here when her party formed the government in 2009 after the 2008 election.
Hasina said the government has introduced cards for farmers so that they could get their subsidy easily. 'We've ensured fertilizers, seeds, irrigation for agricultural production as well as ensured the fair price for their produces,' she said.
The Prime Minister said every inch of cultivable land of the country will be utilised so that the food security of the country is never endangered, while the Manga never stages a comeback.
AL joint general secretaries Jahangir Kabir Nanak and Abdur Rahman, Organising Secretary AFM Bahauddin Nasim and Jubo League President Omor Faruk Chowdhury, among others, spoke on the occasion.