AL-led Grand Alliance wins 287 seats, Oikyafront 6 seats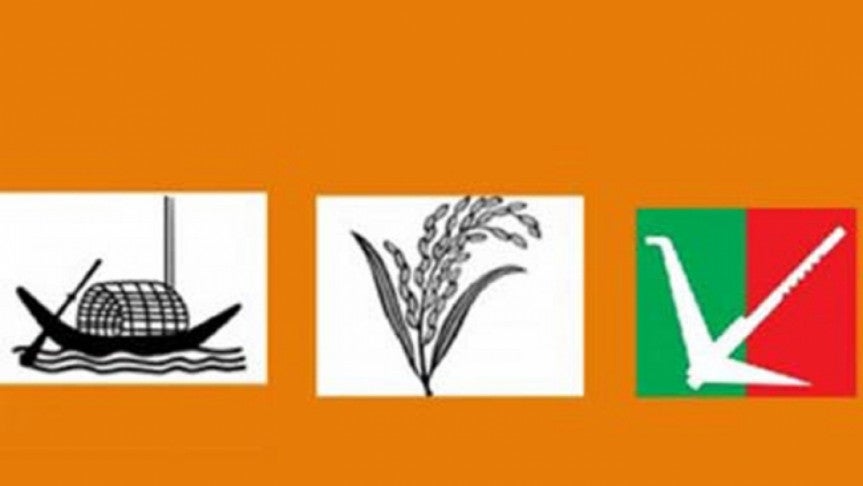 Dhaka: Awami League-led Grand Alliance candidates were unofficially declared elected in 287 constituencies while Dr Kamal-led Jatiya Oikyafront came out successful in six seats in the early counting of votes.
Of the Grand Alliance, Awami League secured 259 seats, Jatiya Party 20, BNP 5, Gano Forum 2, Bikalpadhara 2, Jasod (Inu) 2, Workers Party 3, Tarikat Federation 1, Jatiya Party (Monju) 1 and Independent candodates got 3 seats, Election Commission Secretary Helal Uddin Ahmed announced at 4:02am on Monday, reports the UNB.
According to the unofficial results, Awami League President and Prime Minister Sheikh Hasina won the election from Gopalganj-3 constituency.
Sheikh Hasina bagged 229,539 votes while her nearest rival SM Jilani of BNP polled 123.
Awami League runner Dr Shirin Sharmin Chaudhury was unofficially elected from Rangpur-6 by a huge margin.
She bagged 234,426 votes in all 107 polling stations of the constituency while her nearest rival Jatiya Oikyafront contender Saiful Islam polled 24,053.
Jatiay Party Chairman HM Ershad was unofficially declared elected in Rangpur-3 constituency.
Ershad bagged 142,926 votes while his nearest rival candidate Rita Rahman of Jatiya Oikyafront polled 53,089.
In Gopalganj-2, AL candidate Sheikh Fazlul Karim Selim bagged 281,909 votes to defeat his nearest rival Taslim Shikdar from Islamic Andolon Bangladesh who polled 608. BNP aspirant Sirajul Islam got 286 votes in the election.
In Gopalganj-1, AL contestant M Faruk Khan defeated SD Sharfuzzaman Jahangir by a huge margin of vote. Faruk bagged 303,162 votes against 57 of Jahangir.
Bangladesh ODI captain Mashrafe Bin Mortaza has won a landslide victory in Narail-2 constituency.
Mashrafe got 274,418 out of 284,813 votes which were cast as per the unofficial counting. His e closest contender Jatiya Oikyafront's AZM Dr. Fariduzzaman polled 8,006.
In Kishoreganj-1 constituency, Awami League aspirant Syed Ashraful Islam was unofficially elected bagging 260,973 votes against his rival candidate Rezaul Karim Khan of BNP.
Jatiya Party candidate Mujibul Hoque Chunnu came out successful bagging 239,616 votes in Kishoreganj-3 constituency while Awami League candidate Rezwan Ahmed Toufiq got 258,516 votes in Kishoreganj-4 constituency to win the election.
BNP secretary general Mirza Fakhrul Islam Alamgir came out successful in Bogura-6 constituency. He bagged 205,987 votes to defeat the Jatiya Party candidate who polled 39,961.
In Bogura-4, Mosharraf Hossain defeated Boat candidate securing 128,585 votes against Boat candidate's 86,048.
In Thakurgaon-3 seat, BNP's Zahidur Rahman was elected unofficially bagging 87,165 votes against AL rebel Imdadaul Haque's 84,109.
In Moulvibazar-2 constituency, Jatiya Oikyafront candidate Sultan Mohammad Monsur Ahmed defeated Bikolpa Dhara Bangladesh contestant MM Shaheen. Sultan Monsur bagged 79,742 against Shaheen's 77,170.
In Chapainwabganj-2, BNP candidate Aminul Islam got 175,466 votes to defeat Ziaur Rahman of Awami League who polled 139,952.
In Chapainawabganj-3, Harunur Rashid of BNP (133,661) defeated Abdul Wadud of Awami League (85,938).
Earlier, voting in the election was held amid allegations of irregularities, including overnight stuffing of ballot boxes and capturing of polling stations, and sporadic violence in different parts of the country, leaving 16 people dead.
The voting in the capital city was, however, almost peaceful as reported by UNB reporters.
Elected candidates are:
Dhaka Division
Dhaka-1: Salman F Rahman
Dhaka-2:  Advocate Qamrul Islam
Dhaka-3:  Nasrul Hamid Bipu
Dhaka-4: Syed Abu Hossain Babla
Dhaka-5: Habibur Rahman Mollah
Dhaka-6: Kazi Firoz Rashid
Dhaka-7:  Abul Hasnat
Dhaka-8: Rashed Khan Menon
Dhaka-9:  Saber Hossain Chowdhury
Dhaka-10: Barrister Sheikh Fazle Noor Taposh
Dhaka-11: A.K.M. Rahmatullah
Dhaka-12: Asaduzzaman Khan
Dhaka-13: Sadek Khan
Dhaka-14: Md. Aslamul Haque
Dhaka-15: Kamal Ahmed Majumder
Dhaka-16: Md. Elias Uddin Mollah
Dhaka 17: Akbar Hossain Pathan Farooque
Dhaka-18: Advocate Sahara Khatun
Dhaka-19: Dr Enamur Rahman
Dhaka-20: Benjir Ahmed
Gazipur-1: A.K.M. Mozammel Huq
Gazipur-2: Md. Zahid Ahsan Russel
Gazipur-3: Ikbal Hosen Sobuj
Gazipur-4: Simeen Hussain(Rimi)
Gazipur-5: Meher Afroze Chumki
Rajbari-1: Kazi Keramat Ali
Rajbari-2: Md Jillul Hakim
Gopalganj-1: Faruk Khan
Gopalganj-2: Sheikh Fazlul Karim Selim
Gopalganj-3: Sheikh Hasina
Naryanganj-1: Golam Dastagir Gazi
Naryanganj-2: Nazrul Islam Babu
Naryanganj-3: Leakot Hossain
Naryanganj-4: AKM Shamim Osman
Naryanganj-5: AKM Selim Osman
Manikganj-1: Naimur Rahman Durjoy
Manikganj-2: Momtaz Begum
Manikganj-3: Zahid Maleque
Faridpur-1: Manjur Hossain
Faridpur-2: Syeda Sajeda Chowdhury
Faridpur-3: Khandakar Mosharraf Hossain
Munshiganj-1: Mahi B. Chowdhury
Munshiganj-2: Sagufta Yasmin Emily
Munshiganj-3: Advocate Mrinal Kanti Das
Shariatpur-1: Iqbal Hossain Apu
Shariatpur-2: Md AKM Enamul Haque Shamim
Shariatpur-3: Nahim Razzak
Kishoreganj-1: Sayed Ashraful Islam
Kishoreganj-2: Nur Mohammad
Kishoreganj-3: Md. Mujibul Haque
Kishoreganj-4: Rejwan Ahmed Toufiq
Kishoreganj-5: Afzal Hossain
Kishoreganj-6: Nazmul Hassan Papon
Tangail-1: Dr. Md. Abdur Razzak
Tangail-2: Tanvir Hasan Chhoto Monir
Tangail-3: Ataur Rahman Khan
Tangail-4: Md Hasan Imam Khan
Tangail-5: Mohammad Sanowar Hossain
Tangail-6: Ahsanul Islam Titu
Tangail-7: Ekabbar Hossain
Tangail-8: Joaherul Islam Joaher
Narsingdi-1: Nazrul Islam Hiru
Narsingdi-2: Anwar Ul Ashraf Khan
Narsingdi-3: Jahirul Haque Bhuiyan Mohon
Narsingdi-4: Nurul Majid Ahmed Humayun
Narsingdi-5: Riazuddin Ahmed Raju
Madaripur-1: Nur E Alam Chowdhury Liton
Madaripur-2: Shahjahan Khan
Madaripur-3: Abdus Sobhan Golap
Shariatpur-1: Iqbal Hosen Apu
Shariatpur-2: Enamul Haque Shamim
Shariatpur-3: Nahim Razzaq
Chattogram Division
Chattogram-1: Eng Mosharraf Hossain
Chattogram-2: Syed Nazibul Bashar Maizvandary
Chattogram-3: Mahfujur Rahman Mita
Chattogram-4: Didarul Alam
Chattogram-5: Anisul Islam Mahmud
Chattogram-6: A.B.M. Fazle Karim Chowdhury
Chattogram-7: Hasan Mahmud
Chattogram-8: Moinuddin Khan Badal
Chattogram-9: Mohibul Hassan Chowdhoury
Chattogram-10: Afsarul Amin
Chattogram-11: M Abdul Latif
Chattogram-12: Shamsul Haque Chowdhury
Chattogram-13: Saifuzzaman Chowdhury Zaved
Chattogram-14: Nazrul Islam Chowdhury
Chattogram-15: Abu Reza Muhammad Nezamuddin
Chattogram-16: Mostafizur Rahman Chowdhury
Bandarban: Bir Bahadur Ushoi Singh
Khagrachari: Kujendralal Tripura
Rangamati: Dipankar Talukder
Lakshmipur-1: Anwar Hossain Khan
Lakshmipur-3: AKM Shahjahan Kamal
Lakshmipur-4: Major General (retd) Abdul Mannan
Chandpur-1: Mohiuddin Khan Alamgir
Chandpur-2: Nurul Alam Ruhul
Chandpur-3: Dr Dipu Moni
Chandpur-4: Muhammad Shafiqur Rahman
Chandpur-5: Maj (Rtd.) Rafiqul Islam Bir Uttam
Feni-1: Shirin Akhter
Feni-2: Nizam Uddin Hazari
Feni-3: Lt Gen (retd) Masud Uddin Chowdhury
Brahmanbaria-1: Md. Farhad Hossain
Brahmanbaria-3: Obaidul Muktadir Chowdhury
Brahmanbaria-4: Anisul Huq
Brahmanbaria-5: Ebadul Karim Bulbul
Brahmanbaria-6: AB Tajul Islam
Noakhali-1: HM Ibrahim
Noakhali-2: Morshed Alam
Noakhali-3: Md. Mamunur Rashid Kiron
Noakhali-4: Ekramul Karim Chowdhury
Noakhali-5: Obaidul Quader
Noakhali-6: Ayesha Ferdous
Cumilla-1: Major General Mohammad Shubid Ali Bhuiyan (Retd.)
Cumilla-2: Selima Ahmed Merry
Cumilla-3: Yusuf Abdullah Harun
Cumilla-4: Raji Mohammad Fakhrul
Cumilla-5: Abdul Matin Khasru
Cumilla-6: AKM Bahauddin Bahar
Cumilla-7: Ali Ashraf
Cumilla-8: Nasimul Alam Chowdhury
Cumilla-9: Md Tajul Islam
Cumilla-10: AHM Mostofa Kamal
Cumilla-11: Mujibul Haque
Cox's Bazar-1:  Zafar Alam
Cox's Bazar-2:  Asheq Ullah Rafiq
Cox's Bazar-3:  Shaimum Sarwar Kamal
Cox's Bazar-4:  Shahin Akter Chowdhury
Sylhet Division
Sylhet-1: AKM Abdul Momen
Sylhet-3:  Mahmud-Us Samad Chowdhury Kayes
Sylhet-4:  Imran Ahmed
Sylhet-5: Hafiz Ahmed Mazumder
Sylhet-6:  Nurul Islam Nahid
Sunamganj-1: Moazzem Hossain Ratan
Sunamganj-2: Jaya Sengupta
Sunamganj-3: AA Mannan
Sunamganj-4: Pir Fazlur Rahman
Sunamganj-5: Mohibur Rahman Manik
Moulvibazar-1: Md Shahab Uddin
Moulvibazar-3: Nesar Ahmed
Moulvibazar-4: Md Abdus Shahid
Habiganj-1: Gazi Md Shahnewaz
Habiganj-2: Md Abdul Majid Khan
Habiganj-3: Md Abu Jahir
Habiganj-4: Mohammad Mahbub Ali
Mymensingh Division
Mymensingh-1: Jewel Areng
Mymensingh-2: Sharif Ahmed
Mymensingh-3: Nazim Uddin Ahmed
Mymensingh-4: Rowshan Ershad
Mymensingh-5: K. M. Khalid
Mymensingh-6: Md Moslem Uddin
Mymensingh-7: Maulana Ruhul Amin Madani
Mymensingh-8: Fakhrul Imam
Mymensingh-9: Anwarul Abedin Khan
Mymensingh-10: Fahmi Gulandaz Babel
Mymensingh-11: Kazim Uddin Ahmed
Netrokona-1: Manu Majumdar
Netrokona-2: Ashraf Ali Khan Khasru
Netrokona-3: Asim Kumar Ukil
Netrokona-4: Rebeka Momin
Netrokona-5: Waresat Hossain Belal
Jamalpur-1: Abul Kalam Azad
Jamalpur-3: Mirza Azam
Jamalpur-4: Md Murad Hasan
Jamalpur-5: Mozaffar Hossain
Sherpur-1: Atiur Rahman Atiq
Sherpur-2: Matia Chowdhury
Sherpur-3: AKM Fazlul Haque Chan
Rajshahi Division
Rajshahi-1: Omor Faruk Chowdhury
Rajshahi-2: 50 Fazle Hossain Badsha
Rajshahi-3: 51 Md Ayen Uddin
Rajshahi-4: Eng. Enamul Haque
Rajshahi-5: Md Mansur Rahman
Rajshahi-6: Md. Shahriar Alam
Bogura-1: Abdul Mannan
Bogura-2: Shafiqul Islam
Bogura-3: Nurul Islam Talukder
Bogura-5: Md. Habibar Rahman
Natore-1: Md Shahidul Islam Bakul
Natore-2: Shafiqul Islam Shimul
Natore-3: Zunayed Ahmed Palak
Natore-4: Md. Abdul Quddus
Nogaon-1: Sadhan Chandra Majumdar
Nogaon-2: Shahiduzzaman Sarkar
Nogaon-3: Mohd. Salim Uddin Tarafder
Nogaon-4: Emazuddin Pramanik
Nogaon-5: Nizamuddin Jalil
Naogaon-6: Md Israfil Alam
Sirajganj-1: Mohammad Nasim
Sirajganj-2: Md Habibe Millat
Sirajganj-3: Dr Abdul Aziz
Sirajganj-4: Tanvir Imam
Sirajganj-5: Abdul Majid Mondol
Sirajganj-6: Hasibur Rahman Khan Swapon
Pabna-1: Md Shamsul Haque Tuku
Pabna-2: Ahmed Firoz Kabir
Pabna-3: Makbul Hossain
Pabna-4: Shamsur Rahman Sharif Dilu
Pabna-5: Golam Faruk Khandker Prince
Joypurhat-1: Shamsul Alam Dudu
Joypurhat-2: Abu Sayeed Al Mahmud Swapon
Chapainawabganj-1: Dr. Samil Uddin Ahmed Shimul
Khulna Division
Khulna-1: Panchanan Biswas
Khulna-2:          Sheikh Jalaluddin Jewel
Khulna-3: Begum Munnujan Sufiyan
Khulna-4: Abdus Salam Murshedi
Khulna-5: Narayan Chandra Chanda
Khulna-6: Akhteruzzaman Babu
Meherpur-1: Farhad Hossain
Meherpur-2: Md. Shahiduzzaman Khokon
Kushtia-1: AKM Sarwar Jahan
Kushtia-2: Hasanul Haque Inu
Kushtia-3: Mahbubul Alam Hanif
Kushtia-4: Selim Altaf Gorge
Jashore-1: Sheikh Afil Uddin
Jashore-2: Maj Gen (retd) Nasir Uddin
Jashore-3: Kazi Nabil Ahmed
Jashore-4: Ranjit Kumar Roy
Jashore-5: Swapan Bhattachariya
Jashore-6: Ismat Ara Sadek
Magura-1: Saifuzzaman Shikhor
Magura-2: Biren Shikdar
Bagerhat-1: Sheikh Helal Uddin
Bagerhat-2: Sheikh Tonmoy
Bagerhat-3: Habibun Nahar
Bagerhat-4: Mozammel Hossain
Narail-1: BM Kabirul Haque
Narail-2: Mashrafe Bin Mortaza
Jhenidah-1: Md Abdul Hye
Jhenaidah-2: Tahjeeb Alam Siddique
Jhenidah-3: Md Shfiqul Azam Khan
Jhenaidah-4: Anwarul Azim Anar
Satkhira-1: Mustafa Lutfullah
Satkhira-2: Mir Mostak Ahmed Robi
Satkhira-3: AFM Ruhal Haque
Satkhira-4: SM Jaglul Haidar
Chuadanga-1: Solaiman Haque Zoarder Salun
Chuadanga-2: Ali Asgar Tagor
Barishal Division
Barishal-1: Abul Hasnat Abdullah
Barishal-2: Md. Shahe Alam
Barishal-4: Pangkaj Debnath
Barguna-1: Dhirendra Debnath Shambhu
Barguna-2: Shawkat Hasanur Rahman
Barishal-5: Zahid Farook Shamim
Barishal-6: Nasreen Jahan Ratna
Jhalokati-1: Bazlul Haque Haroon
Jhalakathi-2: Amir Hossain Amu
Patuakhali-1: Shahjahan Majumdar
Patuakhali-2: A.S.M. Feroz
Patuakhali-3: SM Shahjada
Patuakhali-4: Mohibur Rahman Muhib
Pirojpur-1: SM Rezaul Karim
Pirojpur-2: Md. Anwar Hossain
Pirojpur-3: Rustum Ali Faraji
Bhola-1: Tofail Ahmed
Bhola-2: Ali Azam Mukul
Bhola-3: Nurunnabi Chowdhury Shaon
Bhola-4: Abdullah Al Islam Jacob
Rangpur Division
Rangpur-1: Moshiur Rahman Ranga
Rangpur-2: Abul Kamal Md Ahsanul Haque Chowdhury
Rangpur-3: Hussain Muhammad Ershad
Rangpur-4: Tipu Munshi
Rangpur-5: H.N. Ashequr Rahman
Rangpur-6: Shirin Sharmin Chaudhury
Nilphamari-1: Aftab Uddin Sarkar
Nilphamari-2: Asaduzzaman Nur
Nilphamari-3: Rana Mohammad Sohel
Nilphamari-4: Ahsan Adelur Rahman
Dinajpur-1: Manoranjon Shill Gopal
Dinajpur-2: Khalid Mahmud Chowdhury
Dinajpur-3: Iqbalur Rahim
Dinajpur-4: Abul Hassan Mahmood Ali
Dinajpur-5: Mostafizur Rahman Fizar
Dinajpur-6: Shibli Sadique
Lalmonirhat-1: Motahar Hossain
Lalmonirhat-2: Nuruzzaman Ahmed
Lalmonirhat-3: GM Quader
Kurigram-1: Aslam Hossain Soudagor
Kurigram-2: Panir Uddin Ahmed
Kurigram-3: MA Matin
Kurigram-4: Md. Zakir Hossain
Gaibandha-1: Shamim Haider Patwary
Gaibandha-2: Mahbuba Ara Begum Gini
Gaibandha-4: Monwar Hossain Chowdhury
Gaibandha-5: Fazle Rabbi Mia
Thakurgaon-1: Ramesh Chandra Sen
Thakurgaon-2: Alhaj Md. Dabirul Islam
* The election to three centres at Brahmanbaria-2 has been withheld​.