'You aren't alone', BNP to Noakhali rape victim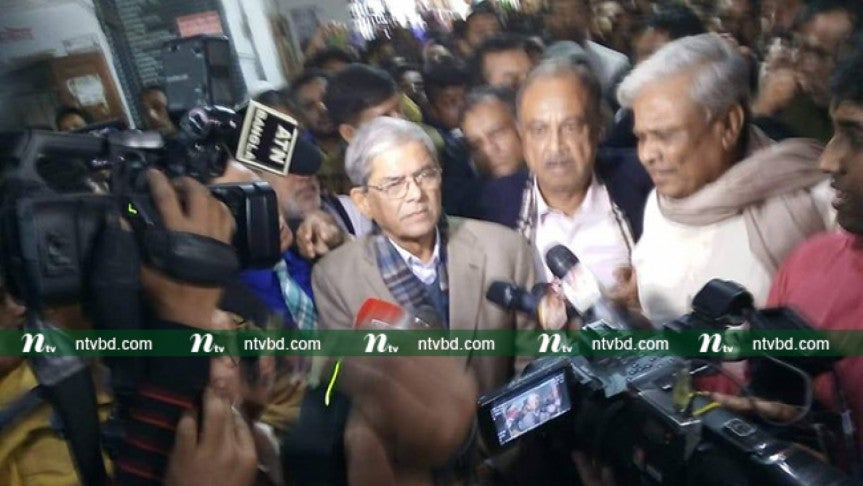 Noakhali: BNP secretary general Mirza Fakhrul Islam Alamgir on Saturday assured Subarnachar gang-rape victim that their party and Jatiya Oikyafront will always remain beside her.
Standing beside the rape victim at Noakhali General Hospital, an emotion-choked BNP secretary general said, 'Sister, you've nothing to be worried as we're with you.'
A weeping Fakhrul also consoled her with his hand on her head, saying, 'The trial of such brutality will surely be held and Allah will also ensure justice.'
A heartrending scene was created as the rape victim, her husband and BNP leaders present there also burst into tears, reports the UNB.
After Fakhrul, Jatiya Samajtantrik Dal (JSD-Rob) President ASM Abdur Rob, Krishak Sramik Janata League president Kader Siddiqui also consoled the rape victim.  
They also provided her with financial assistance, talked to the victim's family members and enquired about her health condition from doctors at cabin No 9 of the hospital.
Later, talking to reporters, Fakhrul said Awami League has deceived people by depriving them of their voting right. 'They (AL) have tuned into public enemy through snatching the voting right of people and taking stance against them.'
He alleged that many people were injured and got crippled in violence unleashed by ruling party men before, during and after the election. 'Even, my sister and a mother of four children, was violated in Noakhali. We strongly condemn it and seek justice from people.'
Fakhrul said they together with people will put up a resistance against Awami League's move to 'establish one-party rule in the country by annihilating' democracy.
Senior leaders of BNP and its different associate bodies were also present there.
Around 6 days after the incident, Fakhrul together the leaders of Jatiya Oikyafront and senior BNP leaders started their journey for Noakhali from BNP chairperson's Gulshan office around 7am.
They reached Noakhali General Hospital by 12:30 pm.
In the early hours of Monday last, a middle-aged woman was reportedly raped by a group of people.
According to the victim's husband, a group of hoodlums stormed into their house and tied up all the family members except his wife.
Later, they took the woman outside the house at gunpoint where they violated her in turns, the victim's husband claimed.
With the help of neighbours, the victim was taken to hospital on Monday noon and a case was filed against nine people over the incident.