Two-thirds prisoners in jails without trial: Sultana Kamal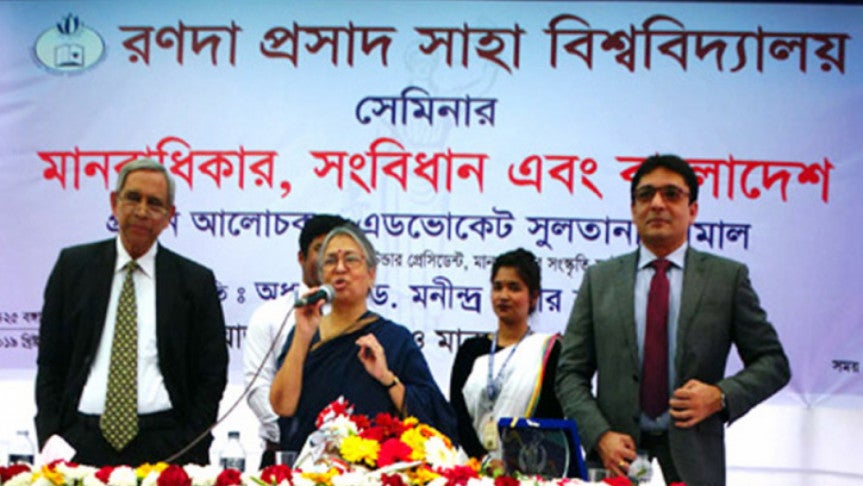 Narayanganj: Human rights activist Advocate Sultana Kamal on Sunday claimed that around two-thirds of prisoners have been kept in jails across the country without trial.
'Jails are overburdened with 3-4 times more inmates than their capacities. Of them, two-thirds are held without any trial. Though there're accused, criminals or daring criminals in jails, their trial is yet to begin. However, a large portion of prisoners is imprisoned although they committed no crime. We're violating the human rights that prevent detention or arrest without trial,' she said, reports the UNB.
Sultana Kamal, also chairperson of Transparency International Bangladesh (TIB) trustee board, came up with the remarks while speaking at a seminar titled 'Human rights, constitution and Bangladesh' at Ranada Prasad Shaha University as the chief discussant.
Talking about the extrajudicial killings, she said people's bodies are found at many places. 'The court will decide who are doing this. But human rights are being violated. People have reached such a situation that they don't expect justice anymore.'
Mentioning that people belonging to minority groups and Dalits are victims of discrimination, Sultana Kamal said, 'This can't prevail in a civilised society. This is unconstitutional. This should be removed.'
She also claimed that the quota system in government jobs was introduced following such discriminations. 
Criticising the government's decision to revoke the quota system, Sultana Kamal said, 'It's not possible to establish equality without such a quota system. The state has the responsibility to lift those lag behind historically.'
The rights activist lamented that though a law is supposed to be enacted to prevent discriminations, it is yet to be implemented.
She also said Bangladesh is in a bad position in terms of preventing corruption. 'We couldn't take any effective measure to root out corruption.'