Niko graft case: Next charge-framing hearing Feb 12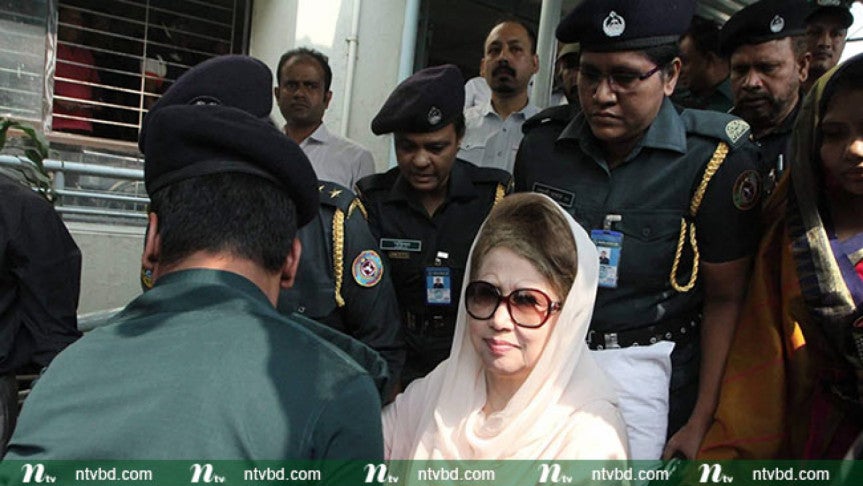 Dhaka: A court here on Monday set February 12 for the next hearing on charge-framing against 11 people, including BNP chairperson Khaleda Zia, in the Niko graft case.
Judge Sheikh Hafizur Rahman of Dhaka Special Judge Court-9 fixed the date after partial hearing with all the accused present in the dock, reports the UNB.
Khaleda's lawyer Abdur Rezzak Khan sought detailed documents of the case, saying they will present their depositions after getting the certified copy of the case.
Special Public Prosecutor Mosharraf Hossain Kajal said the defence should get the certified copy as per the Criminal Rules and Order. 
However, they did not seek it in the last 12 years, he said, adding that they are now seeking it only to delay the trial proceedings.
Later, the court said the defence will get the copy as per the rules.
The BNP chief was brought to the courtroom around 12:40pm on a wheelchair while BNP leader Barrister Moudud Ahmed started hearing on his own part challenging the legality of charge-framing.
He said, 'Those who had committed the crime have not brought to justice. But we're now facing trial although we only maintained the continuity of the (Niko) agreement.'
Later, Moudud filed a time petition which the court accepted and set the next date.
Khaleda was taken back to jail around 2pm after the hearing. 
On December 9, 2007, the Anti-Corruption Commission filed the case accusing Khaleda and others of causing the state a loss of Tk 137.77 billion by signing an oil-gas exploration deal with Canadian company Niko when the BNP was in office.
Police submitted a charge-sheet against the accused on May 5, 2008.
The others accused in the case are BNP standing committee member Moudud Ahmed, former state minister for energy AKM Mosharraf Hossain, former principal secretary Kamal Uddin Siddique, Khandaker Shahidul Islam, CM Yusuf Hossain, former Bapex general manager Mir Mainul Haq, its former secretary Shafiur Rahman, Giasuddin Al Mamun, former MP MAH Selim and former vice-president of South-Asia affairs Niko Kashem Sharif.