Dhaka wants safe haven for Rohingyas in Rakhine state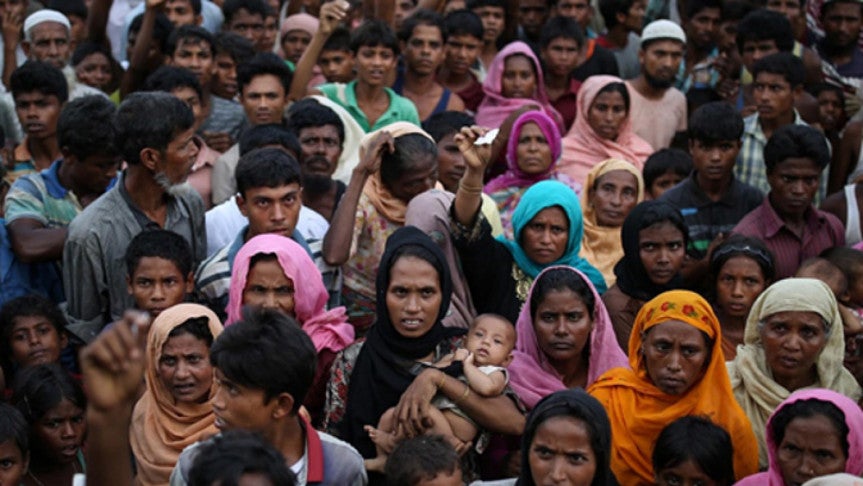 Bangladesh wants a "safe haven" for the forcibly displaced Myanmar nationals in Rakhine state by ensuring their safe, secured and dignified repatriation under the monitoring of India, China and other ASEAN nations.
"We want a safe haven for the Rohingya people in Myanmar's Rakhine state and that haven has to be monitored by India, China and other ASEAN nations —
As China and India are friendly to Myanmar, it may accept this proposal," said Bangladesh Foreign Minister AK Abdul Momen here last evening.
Momen said that he requested his Indian counterpart Sushma Swaraj during their meeting yesterday to take up the proposal with Myanmar's Foreign Minister Aung San Suu Kyi about which the latter replied "let me see."
"When I shared my idea to Indian Prime Minister Narendra Modi about ensuring a safe haven of Rohingyas in Myanmar's Rakhine state, he described the idea as an 'innovative' one," he said.
The Bangladesh foreign minister, who left New Delhi for Dhaka this afternoon after wrapping up his three-day official tour in the neighbouring state, said our main objective is to ensure safe return of Rohingyas in their mother land.
Otherwise, he said "there may be developed radicalism and uncertainty may looms in the region that may hinder the regional peace and stability.  Bangladesh being an over populated country has been facing huge challenges to manage the burden of over 10 lakh Rohingyas in its land."
Describing the humanitarian gesture of Prime Minister Sheikh Hasina on the Rohingyas, who fled torture to Bangladesh, Momen said the prime minister has saved the world from seeing huge killings, otherwise, it could have been the second largest "genocide" after the World War II.
In this connection, Momen said over 24,000 people were killed, 18,000 women raped and 1, 20,000 house destroyed, 1, 15000 houses were burnt in Myanmar Rakhine state. "If we had not given them shelter, there could have been more disaster," he added.
When asked about his visit to India, the foreign minister said "it was very good and productive visit". "The way the Prime Minister of India Narendra Modi, Sushma Ji (Sushma Swaraj) and even the former Prime Minister of India Manmohan Singh received me, I was simply overwhelmed," he continued.
About the Teesta river water sharing deal, Momen said not only Teesta, Bangladesh wants resolution of all outstanding issues through discussion. He said "a solution to the sharing of all the 54 common rivers should be found.  We should not be fixated on just one river".
In this regard, he mentioned the solution of land demarcation dispute with India. "We would be able to solve all outstanding problems with our neighbouring countries through discussion as Bangladesh-India is now enjoying a 'very warm' relation".
About the Indian 4.5 billion dollars Line of Credit (LOC) to Bangladesh, the foreign minister said that he had requested the Indian authority to expedite the process.